Many of you have purchased and read The Gift of Christmas Present this year. Thank you! As Christmas approaches, I wanted to share a few free samples from this Advent devotional with you. Here's today's free Christmas devotion.
And Mary said,
I'm bursting with God-news;
    I'm dancing the song of my Savior God.
God took one good look at me, and look what happened—
    I'm the most fortunate woman on earth!
What God has done for me will never be forgotten,
    the God whose very name is holy, set apart from all others.
His mercy flows in wave after wave
    on those who are in awe before him.
Mary bursts forth with bold, prophetic words, in a song traditionally referred to as the Magnificat, Latin for magnifies, as in "My soul magnifies the Lord."
What if joy comes not from demanding satisfaction from God, but from magnifying God? If we focus on adoration and praise, putting all other things into perspective, God becomes bigger, more prominent, more central.
When we experience God's favor, God's mercy—we can be filled with joy. Mary could have worried: learning you're pregnant before you're married would have been reason for a bit of stress, right? But instead she names her blessings, and as her praise flows toward God, it comes back multiplied magnified, intensified. You can see in Mary's words echoes of Psalms and other Scriptures, but she's woven them with her own experience and thoughts to create her own original praise song. She's in the flow of joy.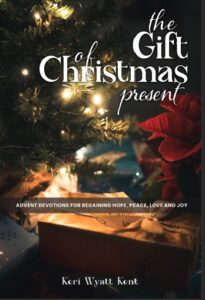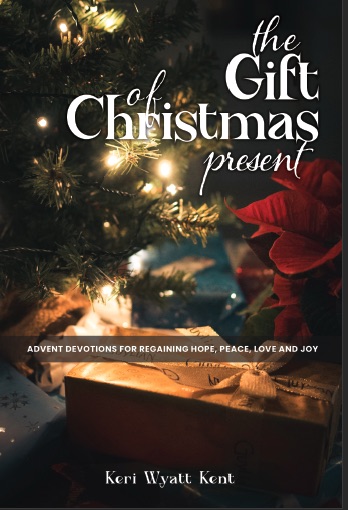 Journal: Write down three things you are grateful for. Take time to reflect on them, to thank God for them, to let them pull you into the flow of joy. Let God's mercy flow on you in wave after wave. Write about what this experience feels like, what God says to you in response to your gratitude.
Pray: God, thank you. Your mercy is flowing on me—help me to recognize it, to step into the flow of your goodness, to be aware of your power and love all around me.
If you enjoyed this free Christmas devotional excerpt from The Gift of Christmas Present, please share this post!