I'm guest blogging at the Gifted for Leadership blog this week on Collaborative Leadership. Please click through, read my post, leave a comment and share the link!
The most efficient way to lead, if you want to be completely pragmatic about it, is via dictatorship. A system in which one person makes all the autonomous decisions is, at least for a while, the most efficient, the least messy.
But power corrupts, and ultimately, while decisions get made and orders are carried out, those decisions are often bad ones. Great execution of a bad decision is still, well, a mess. Dictatorship, even benevolent dictatorship, is neither healthy nor biblical.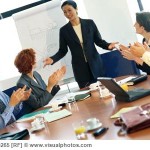 One of the greatest gifts women bring to leadership within the church body is our social conditioning toward collaboration.  (click here to read the rest of the post at GiftedforLeadership.com)