Part of me did not want to go to church. Another part of me longed for it, in a shaky, hungry sort of way. The hunger won out.
At The Practice, the gathering we attend on Sunday evenings, the topic was lament. Not exactly a breezy topic, but it is Lent after all.
Lament is a practice that leads us back to God, but allows us to clear the air first. It invites us to lodge a complaint, loud and specific and raw. Lament says bring your whole self to the table, but then, stay and be fed. It is the darkness into which light can shine.
In a bright, sunlit room, you hardly notice the light of a candle or even a lamp. It is only when the room is darkened that a light will shine. Lament is the darkness, by which we're able to see the light of grace, the blessings we sometimes ignore or can't see.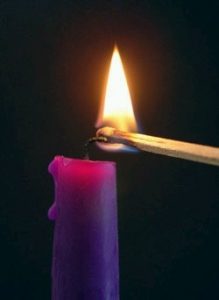 And so I sat in a service focused on the practice of lament. Specifically, why we lament. Teacher Jonathan Martin reminded us that "Lament is the animal sound of your own soul, unfiltered."
Toward the end of the service (you can listen to the podcast here), Father Michael led us in a Lectio Divina on Psalm 6, inviting us to listen for a word or phrase that stood out as he read aloud:
Lord, do not rebuke me in your anger
    or discipline me in your wrath.
2 Have mercy on me, Lord, for I am faint;
    heal me, Lord, for my bones are in agony.
3 My soul is in deep anguish.
    How long, Lord, how long?
4 Turn, Lord, and deliver me;
    save me because of your unfailing love.
5 Among the dead no one proclaims your name.
    Who praises you from the grave?
6 I am worn out from my groaning.
(read the rest of Psalm 6 here)
As I wrote last week, I'd been wrestling with God—feeling angry, disappointed, and a little guilty about those feelings. My prayers on behalf of a friend had gone unanswered.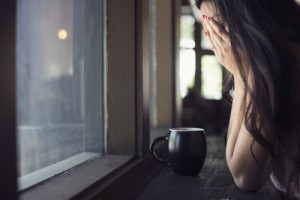 As the reading progressed, the word "anguish" pinged against my heart.
The pain I'm feeling is not just on behalf of my friend, I realized. While her pain is deep, mine is also profound. I'm grieving some losses that are intertwined with hers.
Intercession, though necessary, can sometimes be tool for self-protection—a way to avoid feeling our own pain, naming our own grief.
As I listened for God's word to me within the reading, layers I'd built up over my heart worked themselves loose.
I also realized that I was a little angry that my prayers are not God's work order. My inability to fix or control the situation is hard for me to accept—and it's causing me pain. God's seeming ignoring of my requests makes me feel sad, and inept. The truth about me is I don't like not being able to fix things.
"Turn, Lord…" Tears flowed. I sat, trying to pay attention. Why was I this sad? I want God, who seems to be ignoring this particular situation, to turn back around. I want him to turn and go a different direction. I want him to intervene.
I don't know what that will look like. My prayer became simple. "Turn, Lord. Intervene." It's all I could say.
The Psalm concludes, as Psalms of lament do, with a hopeful upturn, a promise of redemption and restoration. I don't know if I believe it yet. But I'm trying.
The Lord has heard my cry for mercy;
    the Lord accepts my prayer.
10 All my enemies will be overwhelmed with shame and anguish;
    they will turn back and suddenly be put to shame. (Psalm 6:9-10)
Psalms of lament, and the practice they teach us, provide a road map through our pain. When God seems distant, lament guides us back toward truth: God hears. God accepts.
But God is not manipulated. In a way, lament leads us to understand our own limitations. Lament is an invitation to name our pain, but then to trust, in spite of our pain.
It is also a chance to be reminded of what is good, what is not dark. I'm sad about this, but in so many other areas of my life, things are really good.
Lament names the darkness, which stands in contrast with the light, that is, grace.
There are so many other places where the light of grace is bright in my life: my business, my kids, my friendships, my marriage, my physical health. These other areas are going just fine, even unexpectedly well. Darkness helps us see the light, which would otherwise not be visible. And there's so much light, so much grace.
After the Lectio reading, we had a full five minutes of silence, (in which I sat sniffling) to reflect, to listen. As that silence ended, two friends who were sitting in front of me turned to give me hugs. While lamenting alone is often appropriate, when we are brave enough to lament in community, we can receive God's love and assurance (which we are so strongly doubting) from others.
The practice of lament is both deeply personal and profoundly communal. We all suffer, we all are carried along from grace to grace, often at the same time.
This Lent, don't be afraid to lament. Let the darkness of honest prayer help you to see the light of grace so much more clearly.