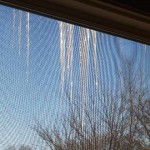 I'm sure plenty of you are tired of hearing about the cold in the Midwest. yesterday, the temperature didn't go above zero degrees all day.
Through my window, it looks beautiful. The sky is clear and blue, the sun sparkles on the snow. But it's weather best enjoyed through a window.
This kind of cold is not just something to complain about. You're painfully aware that the conditions are not just annoying, but very dangerous. My husband's car wouldn't start when he was out last night, he had to have it jumped. Extreme cold makes life very difficult. For those who are on the street, it is unimaginable.
It also makes you incredibly grateful for things like a working furnace, a roof over head. Just today, I got an e-mail to let me know that a family from our church lost their home, and everything in it, to a fire.
They're devastated, of course, but grateful that they are safe, and that friends are rallying to help them.
Can you see the beauty in the struggles? Have you ever found that difficult circumstances have made you grateful?
By the way, check out these two blogs today on the Rest blog tour. leave a comment, and you'll be entered in a drawing to win a book.