Just got back quick weekend trip to Texas for a family wedding, and was excited to see that my newest book, Deeply Loved, is available on amazon.com today.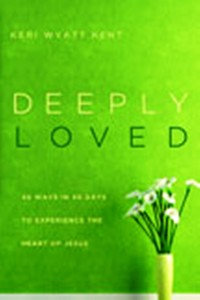 Don't you just love the cover? Deeply Loved is a devotional that guides you through spiritual practices that will help you connect with and fully experience the love of Jesus. It's a 40-day guide, but if you want to take 40 weeks with it, I'm okay with that. If you've always wanted a spiritual mentor, think of this book as a "pocket mentor" that can guide you and reassure you of this very important truth: Jesus is crazy about you, and loves you like an only child.
It's somewhat ironic to me that this is my third solo devotional (I've been a contributor to four or five other devotional collaborative projects). I'm the type of person who never really used devotionals—because most of the ones I had seen growing up evangelical felt too light, too "verse-a-day-calendar"-ish.
So over the years, I've written the type of devotional I would like to read—devotionals that ask for a bit more intellectual and spiritual engagement, both from me as the writer and you as the reader. My goal in writing Deeply Loved was to mentor my readers in spiritual disciplines that would bring freedom and a deep experience of Jesus' outrageous and unconditional love. I am hoping to provide a "Practice of the Presence of God" 2.0 version of sorts, if I might be so bold. (Hopefully Brother Lawrence is not rolling in his grave right now).
I'll be giving away a few copies of this book here on the blog over the next few weeks. And some of you have already won a review copy—which means you promised to write a review. If that makes you nervous, don't worry. That's why my amazon page has a "like" button—so non-writers can just click that. But if you'd like to write a review, here's a sort of beginner's guide to it:
How to write a review
The best endorsement (or reviews), my agent Chip MacGregor likes to say, are either from someone famous (in which case it doesn't matter what they say) or, they are "wet your pants" endorsements—over the top, you couldn't contain your excitement, shout it from the mountaintop reviews. If you're not a celebrity, you'll want to choose the latter.
To help you out, here's some helpful tips on how to write a really exuberant review 🙂  to post on amazon or another seller, or on your blog if you have one. (Yes, this is a bit tongue in cheek but you can adapt it as you wish).
Write a short headline that uses an adjective (Life-changing, compelling, insightful, amazing) to describe the key benefit of the book, followed by a synonym for book (guide, resource, devotional, read, etc.)
Then fill in the blanks:
I (loved/enjoyed/appreciated) this book because it: (name two things it taught you or you liked about it).
It's a great resource for (moms/dads/skeptics/small groups–describe who you see as ideal audience) because (tell why it's a good fit for specific audience).
This book surprised me with its: (something special you didn't expect or highlight of the book).  I simply couldn't put it down!
If you (want to get closer to God/want to strengthen your faith/have a pulse), I highly recommend this book!
Okay, see, that was easy, right?
All joking aside, please do at least click over to the Deeply Loved amazon page and click the "orange" like button. (and that "buy now" button if you're so inclined). And I'd love it if you'd post a review once you've read the book. Be sure to post a link to your review on Facebook, and be sure to let me know about it too.