Welcome to Day 2 of our Deeply Loved Lent study. (Please check out my short video devotional on my Instagram or Facebook.) Today you're reading about what it means to follow Jesus, to spend the day aware of his presence.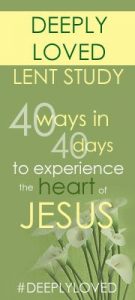 It's not too late to join us on the journey of spiritual formation and growth during Lent.
A few of you have reached out to ask about whether I'll be posting (and therefore emailing) here on the blog every day. I plan to post here a few times a week–but I'll be posting a short devotional video every day on Instagram and Facebook. Hop over and follow me (click here) to get those daily encouragements in your feed.
Also, did you know you can read the first three days of Deeply Loved for free on amazon? Click here to learn more.
If you're not on social media, here's some thoughts I shared there:
"Jesus is fully present with us, no matter where we go. The question is, do we acknowledge that presence?"
Today you're invited to notice and enjoy God's presence. This morning I got up as the sun rose. The clouds, pink and blue, filled a quarter of the morning sky. The beauty made it impossible to ignore the sun. There it was, glorious. But right now, a few hours later, the sun is shining—it's there, present. But I don't give it much attention. Jesus is present with us always. Like the sun. Today's practice is to simply acknowledge and enjoy that presence.