I wake up Valentine's Day to an empty bed.
The pink hearts and cute cupcakes we made don't make the sheets warm. They don't hold me strong and whisper hope and connect deep.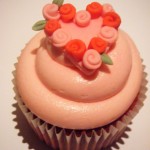 As part of our Deeply Loved Lent study, I hope you'll read the rest of this beautiful post, Living Loved for Lent, by Arabah Joy.