It's an odd feeling, reading words you've written. The process of writing a book takes long enough that you sometimes forget what you've written. After several months on the editor's desk, I received my edited manuscript back yesterday. I have a week (I know! A week!) to read it over and make any corrections or changes I think it needs.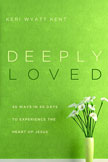 This book, Deeply Loved, is a 40-day devotional designed to guide readers into a deeper experience of the personal, intimate love of Jesus. Ironically, I need this book right now.
It's funny–I wrote this book, but reading it reminds me of the truth afresh. God's sweet gift is that the words I wrote six months ago are now ministering to my soul. Here's a paragraph that reminded me not only of truth, but the fact that I actually know this truth:
"Jesus sees our struggles. What we confess, he already knows. We do not confess to inform him but to access the grace he wants to give us. He is moved with compassion by our plight, and wants to help us. Confession accesses that assistance."
I'm excited about this book because of its simplicity. It walks you through simple practices that will open your heart and soul to experiencing the deep love of Jesus. And we all of us (including me) need that, right?