At about 3 a.m., I am running in a warm, foggy rain down a wooded path, somewhere just south of Racine, Wisconsin. My glasses are constantly fogging up (why did I think taking out my contacts at midnight was a good idea?). My headlamp, the only light available on this dark trail, is slipping down my forehead.
 It is my third run in less than 24 hours. The first, a six-mile trek through the upscale neighborhoods of Madison along the shore of Lake Mendota at 6 a.m., was challenging only because of the early hour and occasional bursts of pouring rain. Late that afternoon, after riding in a van for several hours, I ran my second leg, a four-mile sprint, along a beautiful paved trail, far faster than my usual pace, fueled by adrenalin.
 But this leg will be hard. It will test my endurance and strength. After trying (unsuccessfully) to get some sleep in a tent on the beach, I stagger out  at 2:30 a.m., wearing the yoga pants I'd been sleeping in, throw my sleeping bag in the van, strap on a headlamp and begin. I've gratefully accepted the offer of our van driver, Nick, to run with me on this leg. We jog through the dark streets of Racine, it begins to mist and then rain. The first two miles, I keep telling him to slow down, but by the end of the six-mile run, I'm far ahead of him. Hw far, I can't say. It's really dark.
 A mile from the exchange, I read the now familiar sign that encourages runners near the end of each leg: One Mile To Go. I think: I am going to finish this. Unbelievable. I will finish.
 I almost run past the sign that directs me to turn in to the exchange where I give our team wristband to our next runner and wait for Nick. He unfortunately misses the sign and gets lost. Which means that we must find him. We send the van ahead to the next exchange while my teammate Tony and I call Nick's cell phone and direct him back through the dark, foggy night.
Welcome to the long, strange trip known as Ragnar Relay. Our team of twelve runners (traveling in two vans) ran a total of 196 miles, from Madison, Wisconsin to Chicago, in about 31 hours. The team runs continuously, one after the other, runners 1 through 12, then repeats it. Twice. Sleep is something you try to grab in the van. We got one shower, in the locker room of a high school in Milwaukee in the middle of the night. The "facilities" available along the run were almost exclusively porta johns.
When I told people I was planning to run Ragnar, the first question I heard from most of them was "Why?" It's one thing to run a half marathon or even a marathon. But to embark on the adventure of a 200-mile cross-country relay? To sleep in a van (or not sleep at all) and run three times (but only shower once) in 31 hours?
Many people asked if I were taking on the adventure to raise money for charity, which would have been a brilliant idea, but Ragnar is not necessarily a fund-raising race.
So why? I don't know. The challenge, the adventure, stirred me. It seemed like the next thing I should do as a runner. Believe it or not, our team was one of 524 teams running this particular Ragnar, and similar races are held all over the country throughout the year. We came in 309th, so we weren't in it to win it. We were in it for the adventure.
A group from my running group decided to do Ragnar, and put out the invitation to the group. It sounded crazy, but also, intriguing. Adventurous in a way that simply pounding the pavement in a marathon didn't. A challenge beyond just another race.
This year, as I've navigated a new season of life, I've tried to set challenging goals for myself. (Some days, honestly, the challenging goal for the day was to get off the couch.) But I tried to set higher goals than that, mostly because if I didn't, I knew I'd end up focusing on the losses: my children leaving home, my dog passing away, my job dissolving into thin air. The empty nest phase has been rough for me.
As an empty nester (or "spacious nester" as my friend Tim calls it), I've felt a bit unmoored. Running—especially running with a goal (read: race) in mind—has tethered me. Given me a sense of purpose and accomplishment when a lot of my life seemed to be swirling. Given me something to point to when I wonder what I'm doing. And it's brought new friends into my life, for which I'm grateful.
In the last year, mostly because of the encouragement and challenge of this group, I've run my first 15 K, half marathon, and a 15-mile trail race. I've shaved about five minutes off my 5K time. I could not have done this without my running group. The group is welcoming and accepting, but also challenging. We cheer each other on, but keep on asking one another: what's your next goal? What's your next challenge? Those questions came at me just as the Ragnar team was forming.
So for me, Ragnar was the next challenge. And here's something I realized after running it. Human beings are wired for adventure. We find deep satisfaction in tackling a challenge and accomplishing it. And when we share an adventure, we find community. On this crazy weekend, my team and I learned bits of one another's story, and added a pretty cool chapter to each of our stories. Doing hard things helps you to live a better story, as Donald Miller would say.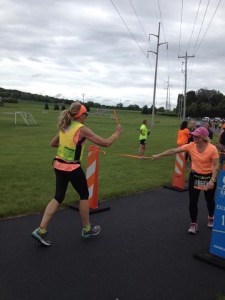 So many people in our culture are lonely. I understand that, I've battled that loneliness this year as I've missed my kids and my dog, as I've redefined my career goals. That loneliness can be debilitating, and make us afraid to take on a challenge or adventure. We withdraw, or just lie on the couch. But adventure is the cure for loneliness, especially when you do something like this with a team.
I traveled in a van with Loretta and Pete, whom I know from our Saturday morning runs, and four other people I hadn't met before. Van 1 had six runners including myself, plus our driver Nick, who has run Ragnar before, and also done 25 or so marathons. He's proudly Greek, and kind of a mini-Me of the dad in the movie My Big Fat Greek Wedding—smaller and more hyper. His quote of the weekend, when we accused him of being overly dramatic: "Well, you know, the Greeks invented drama." He was awesome and hilarious. And I couldn't have run that last leg without him running along with me, talking non-stop.
The lack of sleep and crazy running made us sometimes cranky, sometimes slap happy.We did not smell pretty or look glamorous, any of us. Still, we laughed and talked and had some pretty cool conversations. The adventure we shared created a camaraderie that was oddly beautiful.
Here's something I discovered: Doing things that are hard isn't crazy. I meet a lot of people who waste a lot of energy trying to avoid pain or challenge, when actually, doing those things will make them stronger, better people. For many of us, avoiding hard things takes more energy, and causes more stress, than just doing the hard things actually would take. Doing things that are hard is a good idea, even if other people think you're crazy. I realized that I want to do hard things, because doing them changes you for the better.
I'm currently trying to build my writing and marketing company, A Powerful Story. There are days I feel anything but powerful. Building this business is a hard thing. But accomplishing other hard things, like Ragnar, reminds me that I can do hard things. And in fact, doing them is a really good idea. If you never test your limits, you'll never know what those limits are. You might assume you're far less capable than you actually are.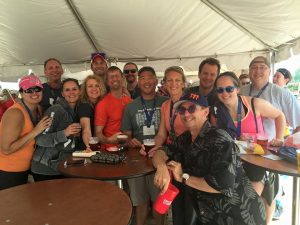 By the end of the weekend, as we sat (still in sweaty running clothes) celebrating our accomplishment in the beer tent on Montrose Beach in Chicago, our team had become friends. We'd gone on an adventure together, overcome crazy challenges, and in that overcoming, forged an odd yet genuine bond.
In part, honestly, I did Ragnar just to say that I had done it. Once I'd committed, I have to admit that I looked forward to "having done it" much more than actually doing it. I asked that same question: why am I doing this? I think I used the word "terrified" to describe how I was feeling about it. So, I was surprised how much fun and laughter and connection I found.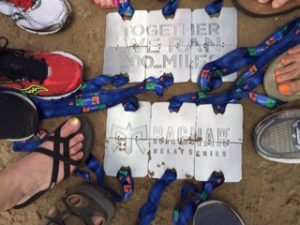 The experience was transformative, in many ways. And I think I had a hunch it might be. Which might be what kept me from bailing on the whole idea. As I continue to face challenges in my career, in my family, in my life, I think: is this harder than running 200 miles (with a few friends) in two days? No. Well, maybe. But I can handle this. It's hard, but doing hard things is not impossible, and often leads to good things. Doing hard things helps you live a better story. I know, because I ran a Ragnar Relay.