One of Anne Lamott's best pieces of advice for writers is simple but profound:  "make a commitment to finishing things." Why? Well, publishers don't buy unfinished manuscripts, for one thing.
But also, writers need to finish things so that we can enjoy the best part of being a writer.
A lot of people would like to have written a book, it's the actual writing they don't want to do. But you can't get the former without the latter.
So for the past year, I've been sitting down at my computer and writing. In my office, in coffee shops, at the library. Writing, researching, writing. In April, I finished one manuscript but had two others to work on right away.  the editing process takes months, so after turning in that book, I sat and wrote again.
Recently, I finally got to see some results. A week or two ago, I got the edited copy of my manuscript back for review–although that meant more re-writing.
Saturday, I finished the manuscript for one of the other books I'm working on. Today, I finished the proposal for another one. I also discovered that the book I finished writing in April is available for pre-order on amazon. The book is called Deeper into the Word: Reflections on 100 New Testament Words. If you've ever wanted a study tool that wasn't overly academic, you'll enjoy this book. I wrote it to help make the Bible more accessible to people who want to go deeper in their study. Imagine if a Bible dictionary and a spiritual formation devotional got married and had a baby–this book is what they'd have.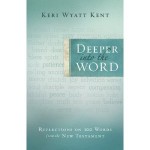 I love what I do, especially in weeks like this where I see the results of making a commitment to finishing things. There is great joy in having done something.  What's true in writing is true in life. Even if you are not a writer, make a commitment to see things through. If you sign up for a class, finish it. If you commit to serving on the PTA or volunteering somewhere, don't abandon it. If your marriage or your kids are stressing you, don't give up. Finish what you've started–it's the path to joy.