Family devotions have often felt like an epic fail for us.
When my children were small, my husband and I wanted to be what we thought were good Christian parents, so we read Bible stories to them. My husband would come up with what he hoped were discussion questions. Sometimes they loved hearing the stories, but other times the kids would just stare at him, or go off on tangents. Trying to lead an inductive Bible study for preschoolers is about as hard as it sounds.
So we were wildly inconsistent over the years at actually sitting down together to read and study the Word. Especially as they got older, reading together felt awkward. We took them to church and had them watch Veggie Tales, hoping that would help (which, actually, it did).
I think we're not alone. Many parents I speak to feel guilt for not having "family devotions,"  or anger that their spouse is not being what they call a "spiritual leader" who leads said study sessions.
I tell them: get over it.
Family devotions are a great practice, if you can pull them off. But if you think that "family devotions" only means a Bible study with reading and questions, or that it is the only way to guide your kids in their faith practice, you've shoved God into a box that's way too small. I think many families aren't even sure what they mean by the term "devotions" and yet feel they are somehow falling short. There are other great ways to nurture your children's faith, and I want to share just a few with you.
The Bible says, "These commandments that I give you today are to be on your hearts. Impress them on your children. Talk about them when you sit at home and when you walk along the road, when you lie down and when you get up. Tie them as symbols on your hands and bind them on your foreheads." (Deuteronomy  6:6-8)
God's ancient followers would literally put tiny scrolls in boxes, and tie them onto their foreheads, like a very uncomfortable headband.
We don't do that. And now that our kids are teenagers, we don't try to sit down to read and study together. But we do talk about (and engage in) spiritual practices that we can do as a family—ways that we can live out our faith. Here are four ways to nurture your children's faith and practice:
Practice what you preach. You can't give away what you don't have. Make sure you're spending time in prayer and reading Scripture yourself if you want your kids to develop the same habit. Remind them to read the Bible on their own, once they're old enough to read. But be sure you're doing the same.
Be open to spiritual conversations. The text says to talk about God's way "when you walk along the road." Or, to contextualize for today: when you're driving in the minivan. Don't compartmentalize your spiritual experience. When they notice beauty in nature, point out that God is amazing and creative. Start conversations not with preaching, but with open-ended questions. Also, if you've engaged faithfully in reading your own Bible, you'll have Biblical wisdom in your mind to share. Pray for opportunities to point out God's influence in everyday situations.
Get out of your comfort zone. A great spiritual practice for our family was to pack up the van with groceries and go and cook a meal at an inner city shelter. Talking about loving your neighbor is one thing—going to show some love to neighbors we wouldn't ordinarily meet is another. Feeding people, especially those in need, is a very practical way to live out what Jesus said should be our highest priority: love.
Practice hospitality. This is a practice that is often misunderstood and ignored in our culture. Hospitality is not entertaining, but welcoming people, creating a space that is safe and nurturing.  It can happen at the soup kitchen, or in your home. It's sharing not only a meal but also sharing your stories. As Shauna Niequist writes in her recent book Bread & Wine, sometimes hospitality is about inviting people into the mess.
This last practice has become a core value for our family. It is so much more than me cooking. Everyone has to help clean up the house, set the table, prep the food. While I tend to be the project manager for our meals, everyone participates.
Yesterday, my daughter who is home from college invited friends over for lunch. They requested guacamole, which I agreed to make if they brought me avocados, the main ingredient.
I love having hungry teenagers standing in my kitchen, helping me chop and stir, tasting as we mix. I love the chatter of conversation as the girls caught up with each other after months away at college.
Then last night, we invited another family over to our home for a simple meal—friends we've known for a long time. They brought a salad and dessert, we grilled chicken and roasted potatoes.  It was not fancy or fussy. We gathered, poured juice and wine, passed platters around a humble table set with plain white dishes, tea lights and paper napkins.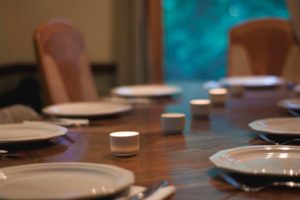 We asked questions and listened, laughed and took pictures (which our teens promptly posted online).
As we often do when we gather friends around our table, we pulled out our "Table Topics" box—a Plexiglas box filled with square cards, each with a question or statement. Some of them are spiritual, some prompt people to share pieces of their story. Others are funny or quirky. But they are somewhat remarkable in that they helped a group of people who have known each other for more than a decade get to know each other better.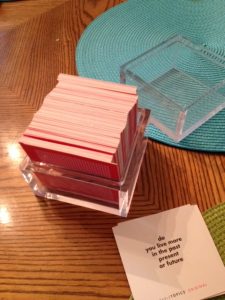 We have intentional discussions with our kids about the value of hospitality, of how this practice is an opportunity to live our faith. We've talked over the years about how Jesus showed love by gathering with others around a table, and about how welcoming others to our table is a way to show his love. We've talked about how this feels like God's call on us as a family, and our kids have both told me, "I love that we do this. I love having people over."
As our friends left, they remarked that the evening had felt like going to small group. Exactly. We did church around our dining room table. Sometimes, loving people is the best kind of family devotions you can do.