Summer's coming. Right now, parents everywhere are signing their kids up for camps. How about you? Is summer a time you keep busy, or slow down? What pace do you choose to live at during the summer months?
Are you foregoing a vacation this summer because of the economy?
            Many of you know, I'm not a big fan of busy summers. Living where it is cold much of the year, I like having plenty of time to just enjoy being outdoors. My kids have very little on the calendar.
            They're old enough now that rather than pay good money for someone else to entertain them, they can earn money. My daughter will be babysitting and will do some office work for my husband. My son will be mowing lawns to earn a few extra dollars. They'll also get to have some precious down time—it's been a very busy spring, especially for my daughter.
            I read something in the Tribune the other day about a shortage of laborers, due to changes in immigration laws. If you have a teenager, this provides a great opportunity. Have them get a job with a local landscape company, or a restaurant or hotel. Have them experience what it is like to have to earn a living the hard way, for a summer. (they'll earn extra money, stay out of trouble, and be inspired to stay in school!)
            As you are busy planning summer for others, I want to ask—what are you doing this summer for you? Your kids may be going to camp, taking lessons or summer school classes. But what about you?
            I'd like to suggest that you carve out some time for you! One great way to do it—get a group of friends to read Oxygen together. This is an easy, do-able devotional that takes you deep into Scripture without overwhelming you. You'll learn how to incorporate some spiritual practices into your life, and connect with Jesus in a new way. And if you go to my website and click on Keri's books, you can download a free leader's guide to help you read the book as a group.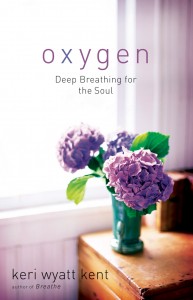 I am just now finishing up reading Oxygen with a group of friends. We meet for coffee once a week, and talk about each chapter. We've all grown spiritually, and become closer friends as well.
            To get you started, I'm going to give away two copies of Oxygen this week! Just leave a comment or question (by clicking on the response link below) on this post: tell me about your plans for summer, or what you've done that has worked well (or not!) in summers past. Tell me about why you'd like a free book! We'll draw two names from all those who post a comment. The deadline is noon this Saturday (May 17).