Many of you remember my 2005 book Breathe. I know some of you continue to use it as a resource for small group discussions or your moms' ministries, or just to remind yourself to slow down and well, breathe! It's about slowing down, simplicity, and Sabbath–topics still just as relevant as when the book originally released almost a decade (what?!) ago. It's got a ton of great information on how to practice Sabbath with your kids, how to simplify your life, and more. It used to look like this:

It was re-released under another title, Making Room for God in Your Hectic Life, a few years ago, with a cover I really didn't like, so I'm not putting up a photo of it.
But I've just (today!) re-released Breathe with a new cover and a few updates. I absolutely love the cover, which features a photo taken by my amazing daughter, Melanie, of her roommate Bekah, in Yosemite National Park. Take a look: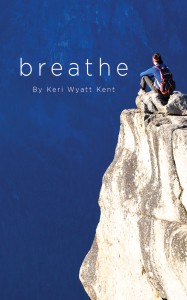 So it has a new amazon page, etc. I would love to get some reviews posted on that page.
So if you've read Breathe and want to just write a quick "I love this book, it changed my life!" type review, please do so. If you would like to have a free copy of an ebook version (PDF) so that you can skim and write a review, please let me know in the comments section below. I'm giving a free ebook copy to the first ten people who request one in the comments.
If you've used Breathe in a small group setting, I'd be particularly interested in hearing about your experience. I'm going to release a study guide tomorrow that will be free here on my site.
So leave a comment, and I'll send you a free book. All I ask is that you post an honest review of the book. Okay, ready? Who wants a free book? Comment below!