So last weekend, Bill Hybels tells our congregation, The Global Leadership Summit will be here at Willow this week, and reminds us to extend hospitality, to be friendly to our guests, strike up conversation.
And I think–yes. Wouldn't it be great if we could even invite a few of the guests to our home for dinner?
I knew it was God stirring when my daughter suggested the same idea.
So I'm like–yes, God wants us to invite people to dinner. After I've been at a conference that ends at 5 p.m. So I put beef stew in the crock pot and pray.
So off we go, expecting God to bring us people to put around our table. I leave the beef stew cooking and we spend the day listening to the likes of Condoleezza Rice and other world-class leaders.
That morning, my daughter and I had shared our vision with my husband, the most extroverted one in the family. So halfway through the day, when he slips into the seat beside me just as a session starts and says, "I found some Canadians to bring to dinner!" I can only smile.
We ended up with another family of friends, and two complete strangers from a church in Alberta, Canada, at our table. Except that now they are not strangers, but friends–Keith and Darren. We heard a bit of their stories, and they heard ours. We showed hospitality, and we were blessed.
We had a rich conversation, in which a variety of stories were told, and my friend Jane asked the kids–what did your parents do well? And my daughter gestured at this group of ten around our dining room table and said, "This."  My family works together really well when we invite people to our home, and say, "There is room at the table for you." My son, when we got home, noticed the strangers and simply raised his eyebrows at me. I said, "set the table." My husband chatted in the family room with our guests, Jane made salad, I made noodles that would stretch our stew for a few into a dinner for ten.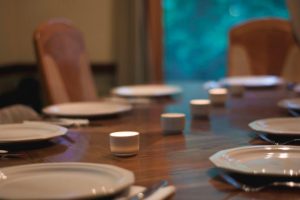 There is always room at the table for strangers, because when you make room for strangers, Jesus comes. My kids are nearly grown. Melanie leaves for college in three weeks, and when she leaves, I hope she takes with her–"This." A group of people around the table, and the knowledge that if someone else comes to the door, they are welcome , as well.
Logistically, it means cleaning out the crisper to make a huge salad, and adding broth and noodles to turn stew for four into dinner for ten, but it works. As our friend Jon commented, "it's a loaves and fishes kind of thing."
This is what my family does well, together. Each of us has gifts, individually. But hospitality is what we do well, and it works. To welcome people to my home, to my table, brings me joy.