Have you ever sat in church listening to a sermon, and the pastor says something like, "Well, in the original language, the word in this passage meant…"–and kind of felt a sort of longing, or wondering? How did they know that? Do you have to go to seminary to be able to "really" understand and interpret Scripture?
Do you ever find yourself trying to read your Bible on your own, and feeling like it stirs up as many questions as answers?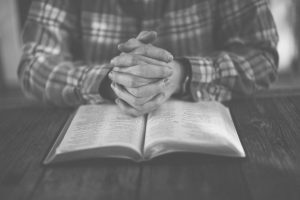 (Photo courtesy of www.lightstock.com)
While seminary's obviously helpful, studying the Bible is something anyone can do. Our culture is basically biblically illiterate–a situation that is tragic–but which can be remedied. And not by sending everyone to seminary.
There are tools (commentaries, concordances, Bible dictionaries, etc.) that you can use to better understand the Bible. But perhaps finding the time to dig through resources like that sounds overwhelming. You just want to understand what you're reading, you just want to know God better.
So how can you do that? That's why I wrote 99 Bible Words You Should Know: Increase Your Bible Knowledge in Less Than 5 Minutes Per Day. In this book, I did the study work for you.
This book has short (2 page) entries, each examining a different New Testament Word. Each easy-to-read entry talks about the context, the original Greek word, the meaning, and gives a simple application step. It summarizes what you'd find in commentaries and lexicons, concordances and dictionaries. Many people have used this book (it's a re-release of one of my older titles) as a devotional, others as a reference book. It's both–and it's also an easy way to improve your biblical literacy.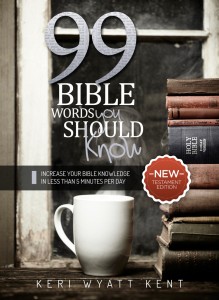 Here's what a couple of reviewers said about this book when it was first released under another title (Deeper into the Word):
"Mrs. Kent combines good scholarship about each word she chooses with personal thoughts on how that particular word challenges her or may challenge you. It is really a well-written, thoughtful, and fun book to have on my shelf….I look up a word here or a word there, especially when I am a little stumped about something, or am interested in learning a little bit more about a topic. This book could very easily be a reference source, but it could also be a devotional that increases someone's knowledge of Scripture. I recommend it highly."
"This book is a valuable resource in the library of any follower of Jesus who is seeking a deeper understand of key words and ideas in the Bible but can't read Greek and doesn't have the time or motivation to delve into thick commentaries. Beyond just helping readers get a better grasp of ideas lost in translation, Kent provides background to help bridge cultural and historical gaps that we in the West struggle with in attempting to understand the New Testament."
You can read the first few entries by using the "look inside" feature on the 99 Bible Words amazon page.
And be sure to stop by the blog later this week, we're going to be giving away review copies of 99 Bible Words.