You've got a book inside you, you just know it. God is nudging you to write. Or maybe, you've already written a book, but you're not sure how to get your book published. Should you try to get it traditionally published? Or should you self-publish your Christian book? 
How do Christian authors get published? Traditional royalty publishers offer one path…
On possible path to publication is through a traditional royalty publisher, such as Thomas Nelson or Tyndale. Christian publishing houses only accept a fraction of the books submitted to them for publication. To get a traditional royalty publisher's attention, you'll need to approach them with a great proposal, proof of a big audience (i.e. email list, social media followers, podcast subscribers) who already knows you and want to read your content (often called your platform), and great writing. Also, you'll need an agent to represent you. 
Self-publishing offers an easier path to publication…
Self-publishing, on the other hand, is something you can do yourself. (I've had books published both ways). Maybe you're wondering how to self-publishing your Christian book. Perhaps you feel a little intimidated. While navigating the self-publishing learning curve can be arduous, it's not impossible. You can become a Christian author by self-publishing your book. 
Below you'll find the basic steps of how to self-publish a Christian book, but if you want customized help or need more detail, click here to receive the Powerful Story Email. Consider me your publishing adventure guide! I can help you find the right path to publication. (Also, if you want more tips in your inbox each week, subscribe for free to my Powerful Story newsletter on Substack.) 
Here are the basic steps to self-publish a Christian book:
1.  Before you start writing, answer four questions:
"What is my unique message?"

"Who is my reader?" 

"Who am I?"

"Who else is writing about this?"
These four questions intertwine. You feel called to share a particular message, you may even sense that God is urging you to write about a specific topic. But you need to make sure that message is crystal clear, and that you know who needs to hear it. 
(Hint: the answer to "who is my reader?" is never "everyone.") 
A great way to get clarity on these essential, foundational questions: visit APowerfulStory.com and click on Start Your Powerful Story. Available exclusively for Powerful Story email subscribers, this tool asks thought-provoking, helpful questions to get you thinking about your message, your target reader, your qualifications and the conversation you want to join. You'll get an email summarizing your answers and outlining your next steps toward self-publishing.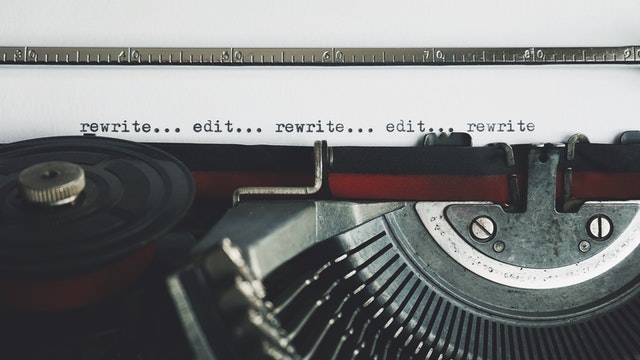 2.  Write, pray, write, pray, rewrite.
And pray a little more. Persist in both. Give yourself short assignments, such as: writing 500 to 1000 words a day. Outlining a chapter a week. Finding five inspirational quotes or Bible verses you want to include in your book. Break down your goal of writing a book into smaller, manageable steps. 
Ask for God's help, but then show up at the page and put in the time! Write rough drafts; don't edit yourself at first. But then, once you've got some words on the page, go back and carefully edit your own work, rewriting as you go. (If you're brave, ask a friend to read and give you feedback on your book.)

3.  Hire a developmental editor.
Invest in a developmental editor, who will give you feedback on the big picture—the scope and sequence of your Christian book.
A developmental editor may suggest rearranging paragraphs, sections or even chapters so the book flows logically and smoothly. They'll tell you what to add and what to take out. It's worth finding an editor who shares your Christian values. They make sure you:
are theologically consistent

are quoting Scripture accurately

don't repeat the same content 

keep the reader highly engaged

build a logical "argument" for your message
4.  Hire a copy editor.
(In other words, call in the grammar police!) A copy editor meticulously checks and corrects spelling, punctuation, sentence structure, grammar and more. Don't let misspelling or passive verbs detract from your message.
5.  Format or design your interior pages.
If you want to publish an e-book, you could possibly format your book yourself, if you know how to do page numbers, headers, interior links and bookmarks, etc. If you're creating a paperback version of your self-published book, it is worth it to hire a designer to help you make your book look professional. 
6.  Purchase an ISBN and barcode.
You can purchase this at www.myidentifers.com. Be sure your book has a copyright page with your ISBN on it.
7.  Get a high quality book cover designed.
The cover must include the barcode and ISBN. Make sure the trim size is the same for both your cover and interior. 
8.  Create an account on amazon's Kindle Direct Publishing (

kdp.com).
Or another self-publishing platform such as IngramSpark or Apple Books so that you can sell your book online. 
9.  Upload your cover and book's interior pages.
Upload them onto whatever platform you've chosen. Make adjustments (things like spine width, file size, font size). Order test copies to make sure it's right. 
10.  Market your book.
Use every channel you can! Market through your website, email lists, and social media, sharing links to your amazon page.
Of course, this is a brief overview of self-publishing a Christian book. You'll take lots of small steps within each of these ten big steps. The Powerful Story Email will have details in each issue, so be sure to sign up for your free subscription today. While the process takes time, you can self-publish your Christian book. Don't give up! 
Subscribe to the Powerful Story Newsletter on Substack and get tips, encouragement and valuable resources for your writing journey.
Want to learn more self-publishing? Subscribe to the Powerful Story newsletter, and get weekly tips on publishing and writing, links to great writing resources, and ways you can connect with other Christian writers. Subscribe here, and you'll get immediate access to Start Your Powerful Story, a tool to help you determine your message, reader, and so much more. 
Also, if you'd like to get writing tips and connect with other writers, newsletter subscribers can join our private Facebook group here.