One of the best ways to imitate Christ is to do what he did at that first Christmas: simply show up. The Word became flesh, and dwelt among us. Or as Eugene Peterson's apt metaphor interprets: "The Word became flesh and blood,  and moved into the neighborhood."
These tough economic times provide opportunities to show up, to deliver the Good News with some good food to go with it, maybe. Please take some time to read the amazing story of what it's like to be on the receiving end of love at Christmas time, which she has on her blog today as part of the Deeply Loved Advent tour. 
Her story begins:
It had been a tough year. The worst one of our married lives, financially speaking, to be exact.Sometimes, we were unable to pay them at all. Over the course of 2011 we received not one, not two, but three eviction notices from our apartment complex. The office staff was compassionate towards our inability to pay, but ultimately unable to override the terms of our lease.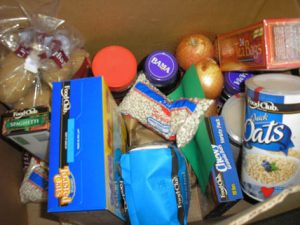 Click through to her Woman in Progress blog to read the rest of this heart-warming story (get some tissues handy).