See what great love the Father has lavished on us, that we should be called children of God! And that is what we are! The reason the world does not know us is that it did not know him. Dear friends, now we are children of God, and what we will be has not yet been made known. But we know that when Christ appears, we shall be like him, for we shall see him as he is. All who have this hope in him purify themselves, just as he is pure. (1 John 3:1-3 NIV)
I am writing this from my parents' deck, watching hummingbirds and finches flit from the bougainvillea to the palm tree. I'm so thankful for this place.
Poetically, it just so happens that the day I'm writing about how parents, especially our dads, shape our view of God, I'm visiting my parents.
Perhaps you grew up with a good and generous father, as I did. Perhaps, though, you did not. My parents are far from perfect, as both will readily admit. But they love God and love others, as best they can. They know they're loved, which gives you a big head start when it comes to being loving yourself.
What a joy, to see that my dad and mom continue to be an encouraging and loving presence, not just in my life but in the lives of my children.
My son has spent his spring break here, choosing Southern California over Chicago—not just for the weather. He likes hanging out with his grandparents (and knows he can use their car to visit friends at the beach).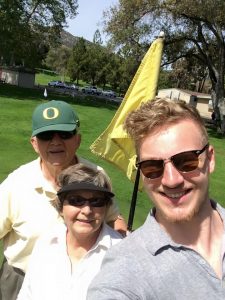 Dad makes sure my daughter, who goes to college about an hour and half from here, knows that she is always welcome at their home, as are her friends. "Come on down to the Wyatt Regency," he tells her and her friends, and they do, glad for a home-cooked meal and a place to relax. They'll be here this weekend.
It's fun to watch my parents delight in my kids. To see a good parent or grandparent love kids gives us just a glimpse of what God's love for us is like. God lavishes love, like a good mom or dad does. God is not stingy or someone who only loves us when we behave or perform.
Maybe, your parents didn't give you what you needed or hoped for. Maybe, your father was absent or abusive or just too busy. Maybe one or both of your parents led with their brokenness, passed on a unhealthy legacy.
That happens. It happens a lot, I know. But here's the thing: God is not broken. God is a good parent. And the adventure we get to embark on is to discover what that means.
I love this verse from today's reading: "Dear friends, now we are children of God, and what we will be has not yet been made known."
We're children of God, that much we know. God is a good father, a good parent. The Bible compares God to both a father and a mother, using both masculine and feminine imagery to paint a picture of a nurturing, protective, loving person. God's not just a vague light or presence, but a specific divine person with whom we can connect.
However: "what we will be has not yet been made known." We are still children, spiritually, growing into what we will someday be. God guides us toward what we will become, accompanies us on the journey. We live in both the now and not yet.
We sing a song at our church that affirms that God is a good, good Father. If you're doubting that today, take some time to click over to listen to the song on YouTube.
If you didn't have a good father, that's sad but not irredeemable. It's a loss to grieve, a challenge to overcome. The good news is, you don't have to grieve and overcome on your own. You can do it with God, who has claimed you as his child, who is especially fond of you. God wants to parent you, to walk beside you out of grief into deep and abundant love, to love you, to lavish love upon you, and take you on an adventure to discover what you will be.