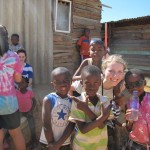 My 17-year old daughter leans on the open newspaper on the kitchen counter. (Yes, as a former newspaper reporter, I can't quite give up daily delivery of the Chicago Tribune). I love that she reads it, her thoughtful questions opening connection between us.
She turns to a page covering the famine in the Horn of Africa, a photo of a child, sad-eyed and skeletal. She touches the page lightly, then reminds me of our plan to go online to donate to World Vision.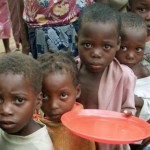 One of our family values is compassion for the poor. I told the kids that if they wanted to donate to help the victims of the famine, I'd match their donation dollar for dollar. So we get online and make a donation. She and her brother both hand me cash, we type in my credit card number for the total amount.
My daughter has taken it one step further–or many miles further, really. She's running the Chicago marathon this fall with Team World Vision, to raise money for their work in Africa. Earlier this year, she visited South Africa with a group from our church.  She came home wanting to make a difference. Runners with Team World Vision raise support–you can sponsor Melanie (it's a direct donation to World Vision) by clicking here. Yesterday she got up at 7 a.m. to run her eight miles before it got too warm,  but it was still very hot and muggy. She came home drenched and crimson-faced.
I hope you'll join us in living out God's compassion by making a donation, maybe getting your kids involved by doing a "matching" program like I'm doing with mine. Why not give your kids an opportunity to offer help, to become aware of the world, to make a difference?