My daughter and I were trolling the aisles of our favorite discount store today, on a mission to find a gift for my darling husband, who turns 45 today. He's not easy to shop for!
                As we walked past the cardboard bins of school supplies, I asked if she needed any. She said we had so many leftovers from years past that she had everything she needed. I'm sure once school starts and the stuff's not on sale anymore, she will suddenly realize what she needs. 🙂
                It's true—open any drawer in my house and you'll find pens, pencils, glue sticks, markers, rulers. My office closet has folders, notebooks, paper.  And what we don't have, we can afford to buy. Especially when they have these crazy great sales this time of year.
                But for many families, getting a backpack full of supplies puts a crimp in an already tight budget.  So I think it's especially cool that the folks at Moody Radio (where I've frequently been a guest) are helping Orphan Outreach with its annual "Mission Backpack" school supply and backpack drive right now. You can learn more by clicking here.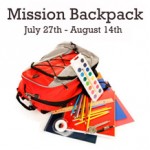 Moody Radio (90.1 FM in Chicago) is teaming up with several inner city ministries in Chicago, including Breakthrough Urban Ministries, a great ministry to kids and adults on Chicago's west side which I support and also volunteer at. Breakthrough's in a tough neighborhood where drugs and gangs are prevalent. Kids living in poverty have a hard enough time doing well in school—they may go to school hungry, or have few role models to show them that it's cool to stay in school. But Breakthrough offers after-school sports, tutoring, and more, hoping to guide them toward success.
                Mission Backpack makes it easy—you can either go and buy supplies and backpacks, and drop them off at several different locations, or you can just donate on-line. If you like to shop, here's a link to the supply list.
Mission Backpack's goal is to get 5000 backpacks by August 14. It would be so cool if everyone who reads this blog forwarded the link to this post, and we helped Moody Radio meet their goal.
                Check your house, junk drawer, home office closet—you probably don't need to buy all new supplies for your kids this year. We're going to try to cut our back-to-school budget by using what we already have. I'm going to donate the money we save (plus a little extra) to Mission Backpack so they can provide backpacks and supplies for needy kids in Chicago. If you're not in the Chicago area, you can still donate. Or perhaps you'll want to start your own backpack drive.
                In this economy, lots of families are struggling. Here's a simple way to show compassion—find a way to help some under-resourced kids start the school year right.