In the last few years, I've noticed something odd. When I would tell people that my daughter was 13 (or 14), they'd furrow their brow, and say "oohh," with a mixture of cynicism and sympathy that I found puzzling. As if they were saying, oh, too bad, those are difficult years. I have not found that to be the case.
My daughter turned 15 yesterday, my son turned 13 three weeks ago. They are both delightful kids. Are they different from when they were younger? of course. They will ride in the car with me and say very little sometimes, but when my daughter and her friends are in her room, the chatter is constant. I think what helps is that I realize this is appropriate behavior, from a developmental point of view. I am trying to parent with the end in mind, and having them become more independent, having their friends take an increasingly important role, is a step in the right direction–toward growing up.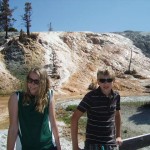 They still enjoy time with us, which is great. Last night, in our birthday tradition, my daughter got to pick the menu (steak and potatoes). We ate as a family, and went around the table, each saying what we liked about her.  (another important birthday traditon at our house). Her brother offered things like "you're not always mean to me" which we laughed about and asked him to try and state in a positive way. Her dad and I each offered blessings as well.
We played Ping Pong, video games, and dominoes. We ate chocolate cheesecake and laughed.
All this week, during spring break, Melanie has either had her friends over or been at their homes. Our house has been full of noise and energy. Tonight we'll have a group of her friends over for dinner and a sleepover, since they're kind of beyond the age for birthday parties (which, I have to admit, is a relief. I was not so good at entertaining a bunch of kids for a few hours when they were younger).
I respect who my daughter is becoming–a woman of faith. I try to name her strengths out loud–she's a leader, a loyal friend, kind, sure of her opinions–not just on her birthday but often.
Question:  what are some of the joys and challenges of parenting, in your experience? What advice or questions do you have?