This year, we're feeling all the feelings about the holidays, and then some. More than ever, we want meaningful connection with people, around our table, if possible. We want to remember the real reason for the season but also go a little wild with celebrating just because we can.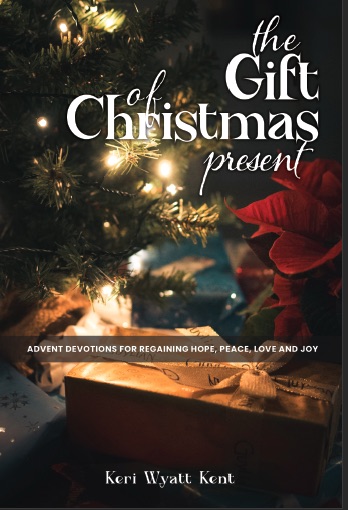 As the holidays approach, wouldn't it be great if you could have a daily reminder to live in the moment each day? What if you had some gentle coaching on how to let go of past regrets and future worries, and just live in Christmas present?
I want to give you that gift. For free! I've created a brand-new e-book, The Gift of Christmas Present: Advent Devotions for Regaining Hope, Peace, Love and Joy. In about five minutes a day, you can read Scripture, reflect, journal and pray your way through the four weeks leading up to Christmas.
Advent begins the Sunday after Thanksgiving. Grab early access to the free download before it is available to the public by requesting it via the subscription box to the right of this post. It's my gift to my email friends. If you're already a subscriber, please leave a comment below and I'll email you the link to the free download.
Here's a sneak peak of the first few paragraphs of this free resource, my gift to you:
There is a deep longing in our hearts, which the season of Advent intensifies. The longing is for presence, for meaning, for connection. With God, with others, with our own inner self.
The words of the prophet Isaiah resonate: the people walking in darkness have seen a great light. We are hoping to God it's true, that the darkness is giving way, that the light of hope really is on the horizon.
If you are reading this, you are a survivor. You've survived a pandemic, not to mention chaos, vitriol and other traumas. In this post-traumatic state, restoration comes from acknowledging the struggles and stresses, then leaning into the source of healing: the Christmas child.
I can't wait for you to enjoy this devotional. You'll want to download it right away so you'll be ready to start reading with us on November 28, the first Sunday of Advent. We'll be talking about what we're reading here on the blog, and on Instagram.
The greatest gift you can give yourself (and the people around you) is to be fully present in each moment. The Gift of Christmas Present will help you do that.
P.S. I'd love it if you tell a few friends about this book, and introduce them to me and my writing, so they can get their own copy. Send them a link or share my social media posts, if you'd be so kind! Thanks.