Hey, it's Free Book Friday. Because we're focusing on Sabbath this month (although Living in Sabbath Simplicity is a topic we discuss frequently here), here's an excerpt from my book Rest: Living in Sabbath Simplicity, from the chapter on Jesus and Sabbath. You can win a copy by leaving a comment. If you share this on Twitter and/or Facebook, leave a comment letting me know–that gives you an extra entry in the drawing!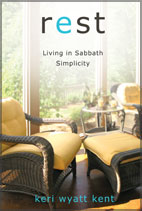 Here's the excerpt:
"As he did with all of Jewish traditional law, Jesus changed the outward expression of Sabbath, but did not change its inner spirit, its purpose—to point us toward God. Jesus often healed people on the Sabbath, confounding the legalists of his day—surely healing constituted work, didn't it?
But those afflicted with disease not only suffered the pain of their infirmity, but they were disconnected from community. The man with the withered hand, the woman bent over, any number of others who received his healing touch would have been isolated—considered unclean, they would not have been able to participate in the life of the synagogue. No one would touch them, because to do so would render that person unclean as well. Jesus restores their physical health, not just to alleviate their physical pain, but as a means of restoring them to community—which was a way of restoring them spiritually. And it is this spiritual reconnection and restoration that Sabbath practice provides.
For Jesus, Sabbath provided an opportunity to heal, to restore, to renew, to invite those who'd been left out back into the kingdom. Jesus' self-declared mission on earth was this: "The Spirit of the Lord is upon me, because he has anointed me to preach good news to the poor. He has sent me to proclaim freedom for the prisoners and recover of sight for the blind, to release the oppressed, to proclaim the year of the Lord's favor" (Luke 4:18-19).
In his Sabbath actions and teachings, Jesus fulfilled this mission of bringing freedom. And he proclaimed the kingdom of God was not just for rule-keepers—he was flinging open the gates of heaven, demonstrating a radical inclusiveness. That is the heart of Sabbath—it is a gift for all people, if only we would choose to receive it. "
Okay, to win a copy of Rest: Living in Sabbath Simplicity, leave a comment with your thoughts, questions or response to the idea of  living in Sabbath Simplicity. Deadline is 5 p.m. tomorrow (Saturday, Aug. 4).  We'll announce the winner on Monday (because part of my Sabbath practice is NO COMPUTER on Sunday!) And the drawing is open to U.S. residents only.