One of my favorite blogs to read is my friend Tim Fall's. Because Tim is not just writing, he's engaging in community. Today, he's reviewed Deeply Loved. Click on over and visit–and be sure to browse some of his other thoughtful posts on life and faith.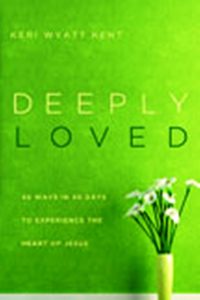 Keri Wyatt Kent asked me to take a look at her book Deeply Loved: 40 Ways in 40 Days to Experience the Hear of Jesus, and I looked forward to its arrival in the mail. The day it came, I showed it to my wife. I didn't see it again for 40 days.
Now that I have had a chance at it, I can see why my wife did not give this book of devotions back any sooner. 
Click here to read the rest of Tim's post, "My Wife Swiped My Devotions"
As a reminder, if you also received a review copy of Deeply Loved, please post a review on amazon, your blog, or your front door–anywhere other people will see it! Thanks!