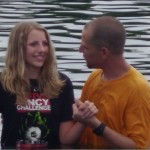 Today was a totally sweet Sabbath. In a classic last minute decision, my daughter decided that today would be a good day to get baptized. Our church holds baptism several times a year indoors, but only once a year outside, in the lake in front of the church. Families gather on the grass and watch and cheer.
So today was the day my little girl, who's been good friends with Jesus for a very long time, decided she'd take an important faith step. It was fun to be with our spiritual family and celebrate.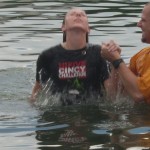 Her small group leader Scott Rubin, director of Elevate, our junior high ministry, got to baptize her, which was great.
We saw other friends get baptized, we connected with church friends we had not seen in a while.
 As a parent, there is little that compares to seeing your children take significant steps in their spiritual journey. What a sweet Sunday!