This year's shopping season may have started before the turkey leftovers fully cooled, but we have almost a week before Advent officially begins this Sunday. Rather than get caught up in the frenzy, take a breath. Before the season launches, consider these five easy strategies for making Advent more meaningful. You can do all of these on your own or with your family.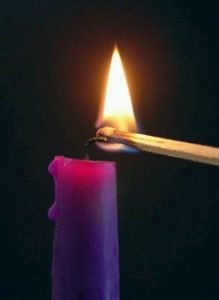 1. Add simple rituals to your routine. When my children were small, our only nod to the season of Advent was the purchase of a Lego Advent calendar. Each day, they'd open a door in the box to pull out a small Lego toy to assemble and hang as an ornament on the tree. Later, we did an Advent wreath with candles, lighting one each Sunday evening. (here's a link to an article on The Meaning of Advent, with instruction and verses that go with each candle). While they seem like small things, rituals like a daily Advent calendar or weekly candle lighting can be a great object lesson about the miracle of Jesus' birth–and the great anticipation that preceded it. Baking certain cookies, decorating the tree, attending church, bringing a meal to someone in need–all these make great Advent rituals.
2. Read daily from an Advent devotional. One of my traditional favorites is Watch for the Light, a collection of essays on Advent that includes some of my favorite authors, including Philip Yancey and Madeleine L'Engle. Or use a traditional lexionary, or a more modern lexionary like A Guide to Prayer for All Who Seek God. Advent is 40-days, so any 40-day devotional will work. A friend of mine is using my book Deeply Loved as her Advent reading.
3. Ruthlessly simplify your to-do list. This time of year, I tend to get overly ambitious with baking projects, gift-giving, home decorating. But who am I doing these things for? Am I doing them because they communicate love to others, or so that I can gain their approval? Ask yourself: what do my children/friends/family really want: more stuff, more homemade cookies, the perfectly set table? Or do they just want my attention and love? Each day, look at your to-do list and decide what can be left undone, and just cross it off the list.
4. Pamper yourself with rest. It's 5 p.m. and I'm watching the sun set as I write this. The days of Advent are short, dark. Take a cue from creation. Since you've shortened your to-do list (see above), decide to give yourself the best gift a busy, overworked person like you could get: a little extra sleep. "A long winter's nap" will do you a world of good, and keep you sane during the holidays. And Advent is four Sundays–four Sabbaths. What if you gave yourself the gift of keeping Sabbath, if only for those four Sundays?
5. Keep a gratitude journal. This can be something your whole family and even guests who visit during the holidays can share in. Get a blank book, and beginning on Dec. 2, the first day of Advent, list at least one thing you're thankful for each day. Ask kids, guests, even neighbors who drop by to write down one-sentence gratitude notes. On Christmas Eve, gather around the tree and read the journal out loud with people you love. These gifts may not be wrapped under the tree, but they are still precious.
How about you? What do you suggest to make Advent meaningful? What rituals or traditions do you engage in during Advent? Leave a comment to tell us about it.