I believe there is power in sharing your story, in naming the work of God in your life. When we listen to one another's stories, when we ask the question "Where have you seen God at work lately?" we encourage one another in the on-going process of transformation and redemption.
You may have noticed that the front page of my website has some new copy on it (if you don't see the changes hit your "refresh" button on your browser). I really want to focus on story, its power and the way that our own stories can direct us toward God.
So I would like to invite you to tell your story. Where have you seen God lately? What are you learning? How have the joys and struggles of your life refined and strengthened your faith? Email me with your story, and we'll choose a few to share on the blog.
Today, I want to share a story from Jen, a reader who contacted me to tell how the hectic pace of her life has created a longing for peace. She's been encouraged by my book Breathe, and wrote to tell me about it. Her story is below. Feel free to leave a comment of encouragement for Jen, or to ask questions. How is the pace of your life affecting you spiritually?
Jen's story
I'm reading (or rather trying to read) your book Breathe right now (been working at it for over a month and only on chapter 2) what does that say about my lack of simplicity and removing the hectic nature of my life right now?
A little about myself, my husband and I both work from home on our photography business. Due to the nature of our home our "office" is in our livingroom/kitchen combo… ie. right in the middle of where all the commotion is in our home (because there is no other place for us to have our desk & computers).
We have 4 kids ranging from 11yrs-3yrs. 3 are in school (one being in half day kindergarten) and our youngest is home with us all day. The two oldest boys play soccer which takes up 4 days of the week. Not to mention photography shoots, weddings (that we photograph), and client meetings needed for our business.
I have been feeling overwhelmed for SO LONG, and needing to figure a way to make all of this work, how to simplify and still manage to have quiet time (my spiritual life has significantly been affected by all this busyness)
A few years ago I was on the steering team for my church's MOPS group, about a year ago I stepped down and have since stopped attending MOPS altogether (to try to narrow down my obligations and help simplify). Well when I belonged to MOPS your book was sent to me with my membership. It looked great, but it went into my nightstand, and hasn't seen the light of day till recently. I was cleaning out my nightstand and WHALA- it was there like the answer I had been asking God for, for these past several months!!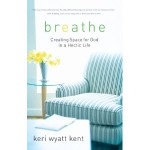 I'm THOROUGHLY enjoying your book, and look forward to learning more as I get further into it.
Just yesterday after homework & soccer, I made the decision to not not turn on the TV, not plan a trip to the park with the kids, but just let them have time to relax. We had a great evening where they dug through the craft closet and made crafts. I normally would have freaked out and told them no (knowing I didn't have the time or energy to clean up the inevitable mess) but your book came to mind, and I have to say we ALL enjoyed ourselves and our unscheduled, spontaneous craft time!
Keri again: I'm terrible at crafts but I would always try to say yes to things that I could say yes to. So often, our reflex is to say "no" and we miss out on things that will strengthen relationships or make memories.
What is your story? Where are you seeing God at work in your life? What longings have stirred your soul lately? Those longings have potential to transform you spiritually, if you are willing to take some risks to follow God. Tell us about what you are learning, how you are growing, the questions you are asking.