Today I'm participating in the Lenten Blog Tour. Be sure to visit other blogs on the tour–some really thoughtful posts are already up, and some amazing writers are participating.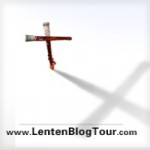 In a few days, my daughter will board a plane bound for South Africa. With a dozen other teenagers from our church and a few adults, she'll go to visit the ministries our church supports in Cape Town and Johannesburg. She'll be educated, in the best sense of the word, about culture and faith, about physical poverty and spiritual wealth. Or at least, that's what I'm praying for. That she will see, in a fresh way, how Jesus loves all the little children of the world.
Another traveler, the Apostle Paul, wrote: "In God's wisdom, he determined that the world wouldn't come to know him through its wisdom. Instead, God was pleased to save those who believe through the foolishness of preaching. Jews ask for signs, and Greeks look for wisdom, but we preach Christ crucified, which is a scandal to Jews and foolishness to Gentiles. But to those who are called—both Jews and Greeks—Christ is God's power and God's wisdom. This is because the foolishness of God is wiser than human wisdom, and the weakness of God is stronger than human strength." (1 Corinthians 1:21-25, Common English Bible).
Extended family members consider my daughter's trip both a scandal and foolishness, and loudly question our wisdom as parents. Can't she be a do-gooder here in Chicago? Certainly, she could. But God's foolishness is higher than our wisdom. I keep thinking, "But to those who are called…" This is an opportunity that will form my daughter spiritually. Such formation sometimes involves risk, involves embracing God's wisdom, which certainly looks quite different from the world's.
It is somehow appropriate that her trip happens to fall during Lent. Lent is a time of releasing our grasp on things we never really had in the first place; in other words, the stripping of illusions of control. It's a time of paying attention to the calling of God, of "preaching Christ crucified" by willingly crucifying our desires for safety and comfort. It is a time of consciously following God's wisdom rather than worldly wisdom, which would say in the face of global poverty, "just write a check," at best, and "ignore and avoid" more commonly.
It also feels significant that my first-born will celebrate her 17th birthday on the other side of the planet. I've seen the stirrings of God in her heart lately, as she's begun her college search: she's interested in anything global or international. The idea of a semester or year abroad makes her heart race. How can she pay attention to that, to see what God is calling her to, except to follow?
Her support letter was so heartfelt she brought in almost twice as much as was needed for her trip. As a mother, I'm proud of her. I deeply respect the competence with which she navigates life and the faith with which she follows Jesus. Part of my Lenten journey this year is to embrace God's wisdom as higher than my own, higher than my in-laws'. I am called to trust that wisdom in a way that is not just theoretical.
Scripture in this post was taken from the new Common English Bible. To win a free copy of the Common English Bible New Testament, just leave a comment below!