Sometimes the best gift you can give someone is prayer, even if you don't know them. Today, many of us are last-minute shopping and wrapping, desperate to figure out what would be the perfect gift. Take a few minutes to read this beautiful guest post from Linda Bryant, a long time friend whose tender, reflective writing flows from her soul. Be sure to click over and visit Linda's blog, Linda Bryant Online: Embracing Joy in the Midst of Change.  (By the way, Linda is an expert at giving thoughtful gifts. Note the watering can mentioned in this post. Another time, she knitted me a scarf with colors of the sunset, because of our mutual love of sunsets. In that spirit, I give you the gift of this post, which she kindly gave to me to share with you.)
When the Bryant family gives Tom and Judy their Christmas gift this year, we have a story to tell them. What they don't know is that the author of their gift, Keri, prayed for them over a decade ago. We're almost as excited to tell them about this as we are to give them a copy of her latest books, Deeper into the Word Old Testament and Deeper into the Word New Testament.
Keri and I were in a small group and during that time, we committed to pray for our friends who had yet to experience a personal relationship with God. The people on my heart were my neighbors, Tom and Judy. We prayed expectantly for their hearts to be open to conversations about God.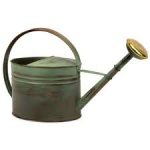 About that time, Keri's second book, The Garden of the Soul, was published. I 'thought' of a brilliant idea. While shopping with Judy, I bought a simple, decorative watering can for Keri to celebrate the release of her book. Since Judy was also an avid gardener, I tried to guide our conversation toward matters of the heart. As we moved deeper into that 'soil,' Judy clearly shut the door. She wasn't ready. So, we kept praying.
A year later, I sadly watched Tom and Judy move to Minneapolis. I felt like my family and others had faithfully planted seeds in their hearts and wondered if they would take their next step toward God in Minnesota. Many kept praying and waiting.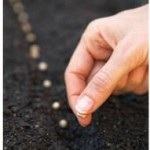 Each December Tom and Judy returned to Illinois so we began a tradition of gathering around our kitchen table for breakfast on Christmas Eve. This prompted many fervent prayers about what would be the right gift to give them. A few years ago, we sensed a prompting to give them a Bible. They graciously, and even a bit eagerly, received it. We were grateful for God's leading. Were the seeds beginning to grow?
Imagine my utter joy when I received a phone call later that year from Judy who proclaimed, "I get it!" Step by step, she described her faith journey and ultimate acceptance of a personal relationship with God. She admitted that her heart had begun to be tender toward God during the season when I and others, including Keri, began praying for them. In case you're wondering, Tom made the same decision to follow God a short time before Judy.
Now our Christmas Eve breakfasts provide a joyful and holy entrance into Christmas Day for all of us. We stand in awe of these two lives transformed by the love and power of God. They are both growing in their faith and love their Heavenly Father deeply. And they are challenging us in our own spiritual growth!
This Christmas it was easy to choose the perfect gifts for Tom and Judy. Keri's newest books will wisely and tenderly lead them into knowledge that will deepen their relationship with God. I haven't wrapped them yet because I keep peeking inside and reading another word topic. I honestly can't wait to engage in conversations with them in the coming months about their fresh discoveries.
But it wasn't until a few days ago that this gift really hit me. Sure, I knew that Keri's writing would encourage their growth. But, Keri had prayed for them. Her fingerprints are on those seeds planted in their hearts. And I am confident, that through the gift of her writing, her fingerprints will be on the fruit that their lives bear for Jesus. How amazing is that? Perhaps the word 'harvest' applies here.
I can't wait to tell Tom and Judy all about it.
Who are you giving the gift of prayer to this season? Where have you seen prayers answered?