So we begin, the slow progression toward Jerusalem.
If my scope remains too narrow, I live as if heading for Good Friday, waiting for the pain, inevitable and sharp. Certain that circumstances will deteriorate. In other words, I give in to fear.
But if I lift my eyes, I'll see Resurrection Sunday. On Calvary, Jesus died. But the irony, beautiful and mysterious, is this: in a way, it was an act of creativity, genius. A death, but also a birth.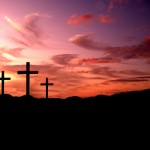 Madeleine Le"Engle writes,  "We are not taught much about the wilder aspects of Christianity…" She was reflecting on the Annunciation, Mary's willingness to take on the messy job of an unwed, unexpected pregnancy, and of raising the son of God–of changing the diapers of the Creator. But Jesus' dying to conquer death is arguably one of the wilder aspects of our faith as well. Mary's "May it be unto me as you have said," was a powerful "yes" to God's plan, even when the plan didn't seem to make sense. And didn't Jesus echo his mother's words in the Garden of Getheseme? "Not my will, but yours…"
L'Engle writes: "All of us who have given birth to a baby, to a story, know that it is ultimately mystery, closely knit to God's own creative activities which did not stop at the beginning of the universe."
Certainly not. In fact, "God's own creative activity" shone strong on the cross. Jesus gave birth to a story that would bring with it the possibility of our rebirth.
Our response to the cross should be somber, but not guilt ridden. The wild mystery of the cross calls for a response: repentance, but then action–creative action. Le"Engle exhorts us, "God is constantly creatiing, in us, through us, with us, and to co-create with God is our human calling." What story are you co-creating with God? What story are you telling with your life?
As you reflect this Holy Week, consider the wildness of Christianity's story,  and wonder: what kind of story does God want to birth through me this Easter?
(quotes from Walking on Water: Reflections on Faith and Art by Madeleine L'Engle. 1980, Harold Shaw.)