I'm guest blogging at the FullFill blog, as a follow up to our webinar on Deeper into the Word last week.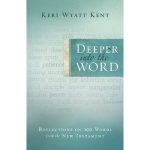 My article, God's Word: Our Life, begins:
God says about his Word: "Command your children to obey carefully all the words of this law. They are not just idle words for you-they are your life." (Deuteronomy 32:47)
The Bible is not just a true book, it is a life-giving book. Yet how often I rush through it, slurping up a bit of inspiration (or maybe just information), then plunging into the rushing stream of my day. The hurry of my life spills into even my quiet time.
Click to read the rest of my article on the FullFill blog.