This is a noisy time of year. One of the best gifts we can give ourselves this time of year is the gift of silence, of peaceful reflection in the midst of the hustle and chaos.
Why not give yourself just a few minutes this morning to reflect on a character from the Christmas story we often skip over? Enjoy this post from the archives.
What effect did Zechariah's silence have on his soul?
My kids hustle out the door into the barely light morning at 6:45. I pour another cup of coffee, plug in the tree lights and sit in the dim early morning, resting in the quiet. An introvert at heart, I love silence. My to-do list beckons, but I take a few minutes to speak quietly to God, and to listen.
Silence is gift, and yet, one we don't often recognize. In Luke's Christmas story, the old priest Zechariah, after being told his wife will bear a son who will fulfill prophesy and prepare the way for the coming Messiah, responds with fear and doubt. Zechariah is terrified and overwhelmed when he sees the angel Gabriel standing next to the altar, and he spirals down from there when he learns he's going to be a parent for the first time, when he was old enough to be a grandpa.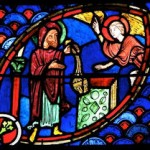 The text says:
"Zechariah said to the angel, 'How will I know that this is so? For I am an old man, and my wife is getting on in years.' The angel replied, 'I am Gabriel. I stand in the presence of God, and I have been sent to speak to you and to bring you this good news. But now, because you did not believe my words, which will be fulfilled in their time, you will become mute (siōpaō) , unable to speak, until the day these things occur.'" (Luke 1:18-20, NRSV)
Because of his unbelief, God gives Zechariah a very long time-out. There are hints in the text that Zechariah was not only mute but deaf as well. The Greek word used in this passage, siōpaō , contains an element of chastisement or rebuke. It's often used in places where people are silent because of embarrassment or consternation. It is also used to describe Jesus' lack of response to the questioning of the high priest after his arrest. (See Matthew 26 and Mark 14).
It is used metaphorically to describe a calm, quiet sea, but only after it has been rebuked. In Mark 4, we read that Jesus, who had been sleeping during a boat ride, awakens and calms a frightful storm with a word. He tells the wind and water: "Peace (siōpaō) be still (phimoō)." (This second word, phimoo, means to muzzle or make speechless). The New Living Translation renders Jesus' words to the water "Quiet down!"
What effect did Zechariah's silence have on his soul? What happened to his faith, his attitude, his heart, when he had to "quiet down" for almost a year? For more than nine months, he sat at home. After she conceived, his wife Elizabeth was "in seclusion" according to the text. Zechariah may have felt lonely, confused. Did that peace ever come to him?
What did he think about? Although he was outwardly silent, I imagine that Zechariah had many long conversations with God in those months. And gradually, something shifted within him. When he finally speaks after his son is born, what pours forth? The text says: "Immediately his mouth was opened and his tongue freed, and he began to speak, praising God" (Luke 1:64). He goes on to utter a spontaneous hymn of praise and prophesy, dictated by the Holy Spirit. (see Luke 1:67-79) He is transformed from a cynical old priest to a true priest, a conduit of God's grace.
In our culture, the Christmas season is often noisy. We may not see the value in times of silence or quiet. And yet, in the Christmas story is tucked a treasure of truth: silence transforms us.
For more insights on biblical words, pick up Keri's newest book, Deeper into the Word: Reflections on 100 New Testament Words. Learn more at www.keriwyattkent.com