Are people capable of change? Are you changing (for the better)? Am I?
My books and teaching focus on spiritual transformation—that is, spiritual change. I'm prepping to speak later this week on transformation, how experiencing God's deep love changes everything for us. A life of loving Jesus calls us to change: to become more like him, and less like our selfish selves. The Bible tells us to be transformed. It offers lots of advice on how that is to happen.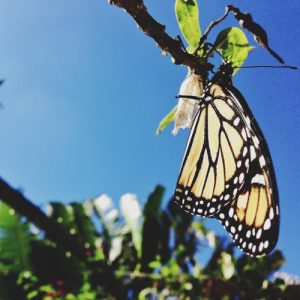 It is not always easy. There are setbacks, challenges. We lose our way. Change comes slowly, but I believe it is possible. And when it comes, it is beautiful. It's the work of God, bringing us into what we were meant to be. Transformation sets us free.
Now the Lord is the Spirit, and where the Spirit of the Lord is, there is freedom.  And we all, who with unveiled faces contemplate the Lord's glory, are being transformed into his image with ever-increasing glory, which comes from the Lord, who is the Spirit. (2 Corinthians 3:17-18, NIV, emphasis mine)
I have so far to go–maybe you realize that's true of you, too. But here is what I believe: we can change. The Spirit of the Lord brings change. It happens. I look at stories of transformation, including my own life, and say, yes, people can change. Or more accurately, God can change people.
I believe that two things that are essential for transformation. I've seen these two ingredients not just in my spiritual life, but in another area of life where I've seen transformation and change. I'll get to them in a minute.
Run the good race
The Apostle Paul compared the spiritual life to a footrace, and the analogy makes sense.
Last weekend, I ran a 5 K race. Now, this is not a huge deal, I've run 3.2 miles before. But I ran it significantly faster than I had in past races.
The weekend before, I ran a 15-mile trail race. This, on the other hand, was a huge deal.It was the longest I'd ever run, and my first trail race. Through the woods, up and down hills, for a little over three hours. My race included some walking to catch my breath, stops at the water stations, a couple of bathroom breaks and one rather spectacular wipe out.  I was delighted to simply finish the race, and delighted to place second in my age division (one of the perks of being old–less competition).
So over the last year and a half, I've changed. My strength and endurance have increased. How did that happen? How did that transformation occur? One mile at a time, one step at a time.
Two things that transformed my running also transform us spiritually:
practice,
and community.
(Romans 12 goes on to say the same thing—humbly use our gifts in community, put our love into action). There are many actions and attitudes that fall within these two categories. They kind of align what Jesus said were the two essentials: loving God, and loving your neighbor. God enables us to do both–just as God is behind any transformation of our spirits, wills, and actions. But these two essentials align us with the work of transformation that God is up to.
Until about two years ago, I'd been running sporadically since high school, never really challenging myself to run more than a couple of miles at a time. I'd make a habit of running for a month or two, then drop it. For a while, I got into walking, but again, eventually got out of the habit. I was always athletic and sporty–but inconsistent when it came to running.
The change came when I joined a running group. The combination of practice and community kept me moving forward. Practice and community were the essentials of my transformation.
Every Saturday, I get up early and meet a group of other people and run with them—rain or shine, cold or hot. This training came in handy last weekend, as I ran that 5K in challenging weather (about 42 degrees and steady rain).
Knowing I had to run each Saturday would reinforce the individual practice, or discipline, of running during the week. I knew the only way I'd keep up with the group run (although there was much grace given as far as pace is concerned) was to get out and log a few miles during the week.
Because of this group, I've run hundreds of miles in the last year and a half—usually only 4 or 5 at a time. I've completed other races, including a 15 K and a half marathon.
Becoming a different sort of person
Flash back to last winter. One Saturday, I arose while it was still dark. The temperature was below zero. I stood by the kitchen sink, wearing running tights and two long-sleeved shirts, eating a banana and peanut butter sandwich. I suddenly thought with surprise, "I have become the kind of person who gets up early on a winter morning and thinks, time to go running." I was shocked to realize that somewhere along the way, something had shifted. I had become a different sort of person than I was before. The question, "should I go running?" or "Do I feel like going running?" didn't even enter my mind, because I had become the kind of person who no longer asks those questions. In a flash of self awareness, I realized that I had changed, and that I might be a little crazy, and that I liked who I'd become.
I went from someone who ran occasionally (if the weather were good or I felt like doing it) to being a runner. I was actually looking forward to running in the snow with my pals. Knowing I was a part of a community, that we would face the challenge of the weather together, and enjoy a post-run hangout at a local coffee shop—drew me into the discipline. Community motivated and encouraged me.
A running group is a group of like-minded people who gather, get out and run, and encourage one another. It reminds me of what the church should be: a group of people who gather, who go out and practice their faith, and encourage one another.
In some ways, progress in running is easier to measure than progress in Christ-likeness. In running, I wear a watch, equipped with a GPS, that measures how far and how fast I go.
How do we track progress spiritually? A runner can track speed and put a number on it. It's way squishier to measure how we're doing at acting like Jesus, and tough to quantify our ability to trust God or love our neighbor. This is again, where disciplines and community come in. The discipline of self-examination, in which we slow down and prayerfully look at our thoughts and actions, and ask God to show us where we're shining and where we still need help, is an excellent tool. And being in community, we can receive both affirmation and challenge that will tell us, a bit more objectively, how we're doing in running the race of faith. We can't put numbers on faith growth, but we can tell stories. And we can ask, am I living a better story than before? Am I more gentle, patient, loving, kind than I was a year ago? In others words, have we become different sort of people? For whom acting like Jesus is easier than it used to be?
How do we "go for a run" spiritually? We engage in spiritual practices or disciplines, like serving others, prayer, silence, reflection, listening. We choose humility as best we can, we act generously, practice hospitality. These practices make us stronger, spiritually. They make us more loving and kind and patient–more like Jesus.
There are many, including myself at times, who might want to throw up their hands and say that transformation of the church, and of individuals within it (including me), is impossible. Or that the community of the church deters their progress rather than encourages it.
We talk ourselves into thinking we can do the Christian life alone. People say that they love Jesus but don't like the church. But the Christian life is not meant to be lived alone. We need community, in all its mess and imperfection. It is the place where we get to serve and put love into action, to put one foot in front of the other, give and receive encouragement. Is it perfect? Nope. But it needs us. And it will transform us–slowly, yes. And beautifully, yes.
You could do your spiritual life by yourself. And you could become more fit by yourself. But why would you?
Transformation is possible, physically and spiritually. In less than two years, I've gone from someone who couldn't run more than about two miles without stopping to someone who ran a 15-mile trail race. I shaved nearly one-third off my 5K pace. God's given me strength and health–I don't take credit for that and am grateful for it every day. Still, I could not just sit back and wait for God to turn me into a runner. I could not have accomplished those goals (or even SET those goals) without the two essentials: practice, and community.
And here's the thing that might surprise you: I don't want to go back to being the kind of person who cannot run more than two miles. There is nothing in that previous life or self that I miss or long for—even sleeping in on a Saturday. In transformation, I've found joy. In the discipline and practice of running, I've found freedom. I'm eager to see what happens, whether I can continue to run faster and better.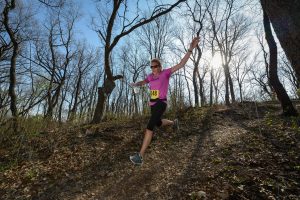 We often think that discipline and the accountability of community will restrict us. But the beautiful mystery of both running and spiritual growth is that these things set us free. Running the race through the woods, I felt grateful. I flew down hills, barely in control, having fun. In the supportive community of my running group, I've been challenged to set goals, push limits, and incorporate regular "disciplines" (workouts) that will help me to grow, to change, to transform. It's made me stronger, braver, bolder.
Can similar transformations occur in our spiritual life? I believe it can. But we cannot do it alone, and it won't happen from wishful thinking. But I do believe the same is true of our life in God that is true in running: in practices, and in community, we grow stronger, and we find joy and freedom.