The new year ushers in a desire for change, for a revamping–of habits, decor, ideas.
So it's fitting, right? A new look for the blog: I'd love to hear what you think. And a new address, so update your browser!
I am still here, frowning in concentration at my laptop, trying to provoke your thoughts, trying to encourage growth or the kind of questions that engender it.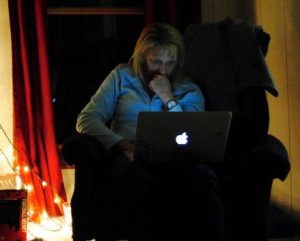 Another change the new year brings: an uptick in my speaking schedule. And a renewed energy for that part of my ministry. For the last two years, the emphasis has been on writing. Which I'm still doing, and loving. But doors are opening for speaking, and I'm carefully stepping through some of them.
I've just returned from an amazing weekend at Ozark Conference Center, where I had the privilege of leading a 48 hour quiet retreat. I spoke five (!) times, yet each talk was short, focused, and purposed toward setting up times of solitude for the participants.
I came away refreshed. Our theme? "Being deeply loved changes everything."
We talked about how Jesus loves each of us like an only child, how the pace of our life injures us (and slowing heals us). We spent time just thinking about how God delights in us, and took time to delight in him. We looked bravely at the shame that blocks many of us from truly experiencing that deep love of Jesus. We celebrated his goodness to us.
I'm grateful that I get to do this–to walk beside people and point them toward God. It's good to be home, back to my family. But I am looking for the new things that God will do in the coming year.
How about you? What new things is God doing? What changes are you making?