When do you feel closest to God? When you are studying? Worshipping? Praying with a group of like-minded friends?
Gary Thomas' classic book, Spiritual Pathways, talks about how most of us tend to prefer certain ways of connecting with God. Some prefer an intellectual pathway, others a more contemplative one.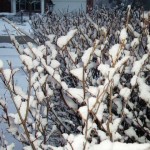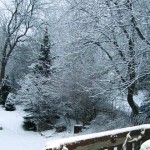 I am one who walks on the "nature" pathway. I see God's handiwork and my heart swells with worship. One of the blessings of living where I do is that we get dramatic change with the seasons. While Chicago is not known for it's natual beauty, we nature types can find the beauty in anything.
Take a look at these photos, which I snapped in my yard this morning. As I drove around this morning, I just loved seeing each branch carefully painted with white frosting. I worship God for his creativity, and for thinking up the amazing idea of beauty–even in the midst of winter!