My friend Jen is Episcopal, and the girl knows her way around The Book of Common Prayer

–a book I never even heard of until I was in college. I'm vaguely jealous of her familiarity with this wonderful resource. My thoroughly evangelical upbringing emphasized just talking to God like a friend, and I somehow got the idea that written prayers were somehow less meaningful, and in fact, frowned upon. That was a theological flaw in my heritage, it's now clear to me.

In my church, we studied the Psalms. We analyzed and memorized them. However, we didn't pray them. Which is to say, we misused the Psalms, which are a prayer book. Here was this amazing collection of songs and prayers, meant to guide us in our prayers, and we were diagramming its sentences.
Memorizing is great, and actually, tends to cause Psalm phrases to leak over into your prayers. Analyzing and studying is great when you're tackling theology, but limiting when it comes to poetry.
Today's reading in Deeply Loved (we're in the last week of our Lenten study) has this:
"Praying the Scriptures is an ancient practice that draws us close to the heart of God. We make his words our own, we acquaint ourselves with God's vocabulary, and we hide his word in our hearts. When we aren't sure what to say, why hem and haw or mutter vague petitions or thanks? Why not turn to the texts that God gave us, the gift of prayers preserved for centuries but that remain relevant to our condition?"
It also quotes Walter Wangerin's excellent book Whole Prayer:
"Throughout history a gracious God has gifted certain men and women with the golden voice of praying. . . . It is a treasure they have left behind. They grant us tongues with which ourselves to pray."
Using pre-written prayers can be a way to get our own ego out of the way. When words of a Psalm or from the Book of Common Prayer resonate, we realize we are not alone, that which we face is common to all people. The Psalms are in the Bible so that when we don't know how to pray, we have a guide. When we think we're the only ones walking through the valley of the shadow, we can see that others have walked this way before, and come through it.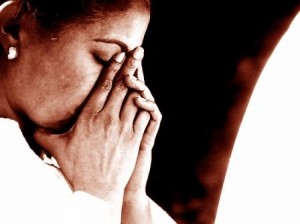 This week, as Easter approaches, take some time to pray a Psalm or two. After all, Jesus prayed a Psalm from the cross. Certainly if he turned to the Bible's book of prayers, we can follow that example.
What Psalm do you find especially meaningful as a prayer? Share in the comments below.