Can a devotional be both deep and fun? I think so, now that I've seen Kelli Trujillo's latest work.
As a writer, I often receive books for review. I read them all, but I'm careful about making recommendations. But I have to say, a slim volume that came across my desk recently turned out to be simply delightful.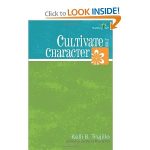 Cultivate Your Character, a "Flourishing Faith" study by fellow Redbud Writer's Guild member Kelli B. Trujillo, was both deep and fun. I know that sounds strange, but that's how I'd describe this short (90 page) little guide. She offers short, easy to follow instructions on ways to connect with God around the topic of character. One of my favorites: "Use a white crayon to write on a white piece of paper some descriptions of the Holy Spirit and his actions … Now use watercolor paints to cover your paper with color–bright, flourishing,  vibrant…as you paint, watch the words appear, proclaiming truth about the Spirit." Don't you love it?
Not all the exercises are creative like that one. She also offers guidance on prayer, study, journaling, interacting, worship and more.
The review I posted on amazon follows. If you'd like to win a copy of Cultivate Your Character, just leave a comment on this post within the next 24 hours, we'll draw one name to receive this resource.
Here's what I posted on amazon:
Ever wished for a spiritual mentor? Someone who could guide you in spiritual practices that were transforming—and also interesting and fun to do?
Cultivate Your Character provides that sort of mentoring and guidance. It's a wonderful resource containing a series of spiritual exercises, ranging from prayer or reflection to drawing or writing poetry. It gently instructs while inviting the reader to learn via experiences ranging from journaling to drawing to taking a walk.
Trujillo's style is breezy, straightforward, and easy to read, yet it's backed by well-researched, solid scholarship (both Biblical and extra-biblical). She's grounded in Scripture yet reinforces the truths of the Bible with quotes from a variety of sources, including historical Christian women leaders such as Amma Syncletica and Teresa of Avila. Trujillo's reflections and instructions reflect a deep reflection on Scripture and the nature of spiritual growth, yet they are highly accessible to even new believers. This is a guide that believers at all different stages of their spiritual journey, and all different temperaments, will enjoy—and be transformed by. Highly recommended.
Be sure also to check out Kelli's website and blog at http://www.kellitrujillo.com/