Thank you to all of you who left a comment. The generous folks at Zondervan are going to send all 13 of you who left a comment by today a free review copy of Simple Compassion. Look for an e-mail from me asking for your mailing address!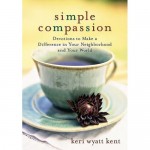 As I said, I hope each of you will take a look at the book and post a review on amazon. A number of readers are planning to lead a group through the book this year–it's a great resource for small groups.
Again, thanks to all. And check back here frequently–we'll be giving away other books and goodies each week.