A common critique put on 21st Century Christians is that they are better known for what they are against, than what they are for. I don't think this is true of all Christians–but the criticism has some merit. The recent Supreme Court decision on marriage equality brought out some strong statements of what some Christians oppose. I believe reasonable dialog on this important issue is necessary, and I am all for standing up for your convictions. I am sad that dialog seems to be characterized less by love and more by fear. There's talk of slippery slopes, predictions of worse things to come, and so forth.
There's a lot of talk about defending a biblical lifestyle, or threats (there's that fear thing) to a biblical lifestyle. But what is a "biblical" lifestyle? Beyond the questions about marriage, what does a biblical lifestyle look like?
The word that comes to mind when I hear or read about some things that Christians do or say, not only on the topic of marriage equality but other social issues (immigration, race relations, to name a few off the top of my head) is a word English has borrowed from the Greek: xenophobia. It means an irrational or unreasonable fear of strangers, or that which seems different or strange.
This week, I was thinking about a word that appears in the Bible that turns xenophobia on its head: philoxenia. It means "a love of strangers"—the exact opposite of xenophobia. In the New Testament, this word is translated "hospitality." Its meaning goes much deeper than our culture's commonly understood definition. The biblical definition is an eager, welcoming love of strangers. Even strangers you might disagree with or feel afraid of.
So I have to ask myself, which am I known for: xenophobia, or philoxenia?
And which of these characterizes a "biblical lifestyle"? Is willingness to eagerly offer hospitality to strangers part of our lifestyle? If not, can we reasonably claim to be living a biblical lifestyle?
Christians in the ancient Middle East were known for hospitality–welcoming strangers into their homes. Hospitality like this, a distinctive of the early church, helped the church grow.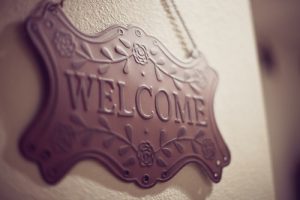 Our culture has a "hospitality industry" that includes hotels and restaurants and the like. It's made an industry out of entertaining as well, as Martha Stewart and others show us how to impress our friends with great meals, clever decorating, and so forth. What we call "hospitality" is really entertaining, and typically offered to friends who will reciprocate by inviting us to a dinner party at their home.
Philoxenia, or its adjective form, philoxenos, appears just a handful of times in the New Testament, but those mentions are key: it is a qualification for church leadership, as well as a directive for all believers. It is part of a biblical lifestyle.
The ancient world did not have Motel 6 or Marriott. While towns had inns, these were sometimes kind of sketchy places—some also served as brothels. In the Jewish culture and the first century Christian culture, hospitality was seen as the duty not just of individuals but of the community.
The Dictionary of the Later New Testament and Its Developments by S.C. Barton explains: "In the first-century Mediterranean world, hospitality was a public duty toward strangers where the honor of the community was at stake and reciprocity was more likely to be communal rather than individual. Further, whereas contemporary Western hospitality has become secularized (so that a common synonym is 'entertainment'), hospitality in antiquity was a sacred duty."
(I found this quote and a wonderful essay on biblical hospitality at a lovely blog called Orchard Keeper. Please click over and read it.)
According to the bible, philoxenia is part of how we practice or live out our faith, how we love others. Romans 12 outlines how we should live as Christians, how to put love into practice. The word "be" in verse 10 sets up a list of all the things we should be:
9 Let love be without hypocrisy. Abhor what is evil. Cling to what is good. 10 Be kindly affectionate to one another with brotherly love, in honor giving preference to one another;11 not lagging in diligence, fervent in spirit, serving the Lord; 12 rejoicing in hope, patient in tribulation, continuing steadfastly in prayer; 13 distributing to the needs of the saints, given to hospitality. (Romans 12:9-13, NKJV)
The phrase "given to hospitality" translates two Greek words:
Given: dioko: seek after eagerly, pursue, earnestly endeavor
Hospitality: philoxenia: love to strangers
So to "be given to hospitality" means to eagerly seek to love strangers. People who are strange, unknown, different. Even weird.
Again, the idea is not that we grudgingly offer hospitality, but that we do so eagerly. With as much passion as we can. I wonder what would happen to us, and to the people we are trying to show Christ to, if we eagerly pursued hospitality to strangers as eagerly as we engaged in debate with those who we think are strange, different, weird? If we are defending a "biblical" lifestyle, it might be worth asking: Do we practice hospitality, and encourage other Christians to practice it as well? If not, why not?
It's interesting to me that hospitality to strangers (not entertaining friends) is not a common practice among believers.
I've written here before about our family's experience of hosting guests from all around the world in our home. Welcoming strangers has shaped my children and our faith as a family. Providing a place to sleep or a meal is part of how we do our faith. The spiritual practice of hospitality is one we can engage in as a family.
My daughter is working this summer with the Willow Creek Association to help put on the Global Leadership Summit. As we often have, we will be hosting leaders from another country in our home during the Summit. Over the years, we've had people from Norway, South Africa, England, Australia and other places stay in our home while they attended conferences at Willow. It's always been a wonderful experience.
In fact, a few years ago at the Summit, we invited strangers to our home for a meal. What a rich conversation we had that evening. What I loved best was that both my children just took it in stride, as our version of normal.
My daughter came home the other day, frustrated that the church cannot find enough families to host all of the guests who need housing. About 265 guests request housing, often because they are stretched financially by the international travel costs. A significant number still are seeking host homes. She could see that hospitality is not necessarily a distinctive of the 21st century church.
My daughter decided to do something about it, and invited all of our neighbors (even those who don't attend our church) to host a guest. (The fact that we know all of our neighbors well enough to ask them this is perhaps indicative of how we've tried to show them hospitality as well.)
I love that my daughter wants to invite our neighbors and friends into the experience of philoxenia, of hospitality. It has formed her spiritually, and she wants to invite others into that.
The Bible encourages Christians to offer hospitality to one another, in 1 Peter 4:9: "Offer hospitality to one another without grumbling."
But other verses go further—don't just offer hospitality without grumbling, but eagerly seek to practice it, not just with other Christians but with strangers.
Hebrews 13:2 says: "Do not forget to show hospitality (philoxenia) to strangers, for by so doing some people have shown hospitality to angels without knowing it."
Hospitality is a spiritually forming practice that reminds us, in a tangible way, of God's hospitality to us: while we were yet sinners, Christ died for us. While we were strangers (or wanderers), God sought us out. God's welcome ushered us into community. What better way to proclaim God's love than to offer that same welcome to all?