Last year was a busy writing year for me, so I have three books releasing in three months this fall! I worked on two collaborative projects, in addition to another book that I'll tell you about next month. Both these new books are devotionals and would make great gifts (the holidays are coming!!). Read on to find out how you can enter a drawing to win a book.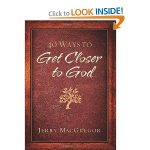 40 Ways to Get Closer to God.
This is a very practical devotional that I co-wrote with my friend and agent Jerry "Chip" MacGregor. This book is a forty day experience. Think of it as the "Love Dare" focused on spiritual growth rather than marriage. Each day, you read a short devotional, and are then directed to engage in a "God Challenge"—that is, to try a specific spiritual practice—prayer, journaling, reading, etc. The book is extremely practical, Jerry's style is very direct and honest, and he tells some powerful stories in the book. It's a great spiritual growth book for guys.
I've got three copies of this book to give away. Leave a comment below and you'll be entered. All I ask is that you write a review of the book on amazon or another bookseller site.
Here's a review of the book on the Christians Read blog.
Mornings with Jesus
I was one of five writers who collaborated on this one-year devotional, which will guide you into deeper intimacy with Jesus. Each day's reading includes a short Scripture passage, a thought-provoking devotional, and a simple "faith step" that invites you to reflect or act upon what you've read. The book has not released yet, but when it does, we'll give copies away on my blog. Click over and subscribe to my blog to be sure you don't miss the contest. (www.keriwyattkent.com/soul/) You can pre-order the book on amazon here. Check back often, or better yet, subscribe in the box at right, to find out when we'll be giving away copies of this title, which is not yet released.