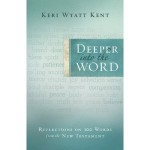 For a limited time, the ebook version of Deeper into the Word: Reflections on 100 New Testament Words is available from online sellers for the unbelievable price of "free"!
Deeper into the Word is 100 short chapters, each examining a biblical word like compassion, grace, or one of my favorites, Thirst. The book has a devotional feel but still includes info on the Greek words in the original text, comments from scholars, and so on. iI's a reference book for laypeople, written by a layperson (that would be me).
A friend instant messaged me on Facebook yesterday to alert me to the fact amazon was giving my book away, and asked why I would allow such a thing.
Welcome to book marketing in the 21st Century. Publishers give away books, especially ebooks where the production costs are, well, really, really low. Surprisingly, when you give away even a large quantity of books, the paid sales for that book generally go up. This is not an old book that no one's interested in. It's been out less than a year, and has an average 4 1/2 star rating on amazon. But the publisher wants more people to know about it. There's also the hope that if people read this book and like it, they'll want to get a copy of one of my nine other books, particularly the second book in this series, Deeper into the Word: Reflections on 100 Old Testament Words. 
A free book gets people talking about that book, about the author. It creates what marketers call "buzz" which is a nebulous term but a key part of what sells books–it's essentially word of mouth.  It was fun to see on my Twitter alerts that my old friend and mentor, Lee Strobel, had retweeted Helen Lee's tweet about the book.
If you get the free ebook of Deeper into the Word, read a few chapters and post a review on amazon! I was thinking about incentives for people to do this–and actually tweeted that I'd send reviewers a free signed bookplate. Which I'm glad to do.  But–hello–you can't stick a bookplate in an ebook! So I'm looking for ideas on a way to reward folks who post reviews. What do you think?