Writer and author Susy Flory posted this review of my new book–and you could win a free copy! We haven't done free book Friday for a while, but here's the deal: the first three readers to post the first paragraph of her review (below) on their Facebook page, with a link to this blog, will win a free copy of it. Send me an email (or a Facebook message) telling me you've got the link on your Facebook page, and you might win! (read the review first to make sure it's a book you actually want!!)
Here's her review: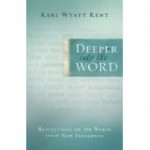 When Oprah reads a book and talks about it on the air, she often
refers to having "a-ha!" moments. Keri Wyatt Kent's new book, Deeper
Into the Word: New Testament" was chockfull of a-ha moments for me. If
you're like me and you've heard your share of sermons and Bible
lessons over the years, Keri's book will help scrub off the dust and
grime of over-familiarity with well known biblical texts and give them
a fresh gleam. 
For those who are newer to studying and tangling with
biblical texts, Deeper Into the Word: Reflections on 100 Words From
the New Testament will introduce and demonstrate the idea of a "word
study," which means to stop and take a closer look at the meaning of a
particular word and attempt to fully understand what the author meant
when using that word.

Kent has chosen 100 words that appear in the Bible, such as Blind,
Bread, Church, Disciple, Friend, Pharisee, Religion, Sabbath, Water,
and Yoke. For each word, she gives the most common interpretation,
often accompanied by a personal anecdote, then goes into a quick look
at the word in the original Hebrew, Greek, or Aramaic. Then comes the
fun: Kent quickly and easily puts the word into historical and
cultural context, sometimes turning the most often used interpretation
of the word upside down. Hence, the a-ha! And she does all of this
with a friendly, non-intimidating, and engaging manner.

One of the most powerful a-ha moments for me was the chapter on the
word "love:" I've heard preachers and teachers outline the three
concepts behind the biblical concept of love in the Greek language:
eros (sexual or romantic love), phileo (brotherly love or tender
friendship); and, agapeo or agape (spiritual, self-sacrificing love)
and how all three biblical words were translated into English as
"love." It was a familiar concept so I wasn't sure Kent could make
this concept new for me. But of course she did, starting out with a
nod to the Beatles All You Need is Love, and a caution that love is,
in our culture, "a word often said but seldom understood, a word
robbed of meaning, and yet one that can mean so many different
things."

There is a quick and easy explanation of the meaning of each of the
three love-words, and then the zinger, something I had never heard
before (or if I had, I didn't remember—sorry, Preachers!) In John 21,
the resurrected Jesus talks to Peter, who is still ashamed of his
public denial of being a Jesus-follower. "Peter, do you love me more
than these?" Jesus asks, using the Greek agapeo. It's a significant
and loaded question. Jesus is asking Peter if he is willing to follow
to the point of death. Guess what Peter answers? "Lord, you know that
I love you." In English, this seems a reasonable response. But Peter
uses the Greek phileo instead of agapeo.

Peter is making it clear that he loves Jesus as a friend or a brother,
but cannot or will not yet commit to the highest form of love. Jesus
has modeled it already to Peter and now he is calling Peter to it, but
through shame, guilt, and/or pride, Peter stubbornly sticks to phileo.
That's not the end of the story for Peter and, in fact, when he is old
he will surrender his will to his Lord and live out agapeo. But not
yet. I never would have understood the subtext to the conversation
without Keri's clear and succinct explanation. Finally, I understood
why Jesus kept repeating this question to Peter, even though Peter
seemed to be satisfactorily answering Jesus.

Deeper Into the Word is full of these moments, directing a bright and
warm light onto familiar biblical words that can speak into our lives
with power, if only we take the time to listen.