Speaking Topics
Keri Wyatt Kent is a gifted, experienced teacher who communicates spiritual truth in a down-to-earth, authentic way. Audiences connect with her honest stories, and receive practical guidance on how to find God in the story of their lives. Keri blends depth and insight with humor and candor.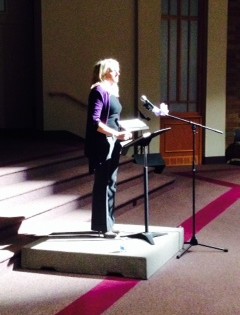 Keri's keynote address at Karitos Arts Festival 2009
Keri Wyatt Kent on Marketing, Platform & Speaking
SBR – MDK – Class – Alive With Curiosity – Oct. 5, 2017
The Gift Of Christmas Present
So you want to write a book…
"We recommend Keri Wyatt Kent for your event.  Keri was our keynote speaker for our annual employee recognition event.  We put Keri to the test by asking her to develop a speech for the event that was faith-based and spiritual, but would be comfortable for a wide range of audience members; from those with no-faith, a different faith, to varying degrees of Christ-followers.  She came through for us excellently and was able to touch all listeners in some way with the message of Christ. Everyone who attended was blessed by Keri's message and her calm, casual speaking style."
Joan Schutt, Director of Advancement Services
Providence Life Services, Tinley Park, IL
"Keri spoke to our MOPS group on overcoming spiritual loneliness. She is a captivating speaker and her passion for helping women is so apparent. I left with spiritual truths, scriptures and a game plan to strengthen my walk with Christ. I literally ran out of room on my paper from taking so many notes! I am grateful for having had the opportunity to hear God speak to me through Keri and I am joyful to have the opportunity to recommend her to your group."
Kari Gassman
MOPS Crystal Lake, IL
"As our keynote speaker for our annual Christmas Tea, Keri brought us an engaging message, "The Gift of Christmas Present." The message was not only fun but deeply challenging.  Keri helped us to clarify priorities for the busy Christmas season in a fresh way. Her talk motivated me to focus on what is truly important and how to build my holiday to-do list around Jesus and the people I love and care about. This is the second time that Keri has been invited to speak at an event at our church and we look forward to having her back again in the future.
Erin Chamerlik
NorthBridge Church, Antioch, IL
"Keri stands out because she is real and has a genuine desire to help women. Her stories capture her listeners' hearts and impact them in life-changing ways."
Allison Cabral
Certified Life Coach
"Keep sharing, you have a gift and God is using you powerfully!"
Retreat Participant
"I felt like you were speaking directly to me."
Retreat Participant
"She was fantastic, great speaker, very organized thoughts, encouraging to me and other ladies."
"Excellent content and great ideas."
"Enjoyed your program very much. Thank you for pointing out that when we say 'yes' to someone, we say 'no' to our family!"
"She was worth the cost of the whole event, is an awesome speaker."
"So relevant to a leader–they need to know how to balance ministry and family."
"Very thoughtful, provoking, challenging."
"I really struggle with the hurry and busyness of life. I have learned to say no, but as a servant I want to help with everything. This morning has helped me to decide to slow down and take time for time alone with God."
"Thank you, I feel I was given tools to use to cultivate a 'garden' of love and friendship with Jesus!"
The small group and individual exercises were "a great mix for introverts and extroverts. It suited both types of personalities. The Lord is using you!"
"[The most significant part of the morning was] getting ideas on how to meditate on God's word and to listen to what God is saying to me throughout the day. [The teaching] exceeded my expectations."
"Everything was great. God used Keri and this time to nudge me toward Him and to confirm things He's been showing me about How and where He wants to grow me. Some of the tools Keri showed us–i.e., Centering Prayer and Divine Word exercises especially–these are things I can do (despite my busyness) to help me meditate and hear God more easily/often. The teaching exceeded my expectation, it kept my interest and taught me practical tools for growth."
"I loved the focus on spiritual disciplines."
"I enjoyed learning about solitude and meditation and listening to God."
"I enjoyed the discussion groups because it helped with practical application."
"I enjoyed the retreat because short teaching times were followed by opportunities to discuss/share rather than long periods spent listening. Time for solitude was great."
"I loved Keri's practical approach–very personable."
"There was just enough information and teaching to set me on the pathway to much more in my relationship with Jesus. It was transformational, not just informational."
"Keri's teaching was great and simple."
"She provided excellent help for day-to-day living with God in the center."
Request a Speaking Date
To request a speaking date from Keri, please complete and submit the form below. All fields are required.