Last week, on Free Book Friday, I asked some questions: "What barriers get in the way of knowing you're deeply loved? What keeps you from experiencing the love of Jesus in a personal and profound way?"
A recurring theme in your honest answers: fear. Fear that you're not good enough; that the only acceptable standard is the impossible one, perfection. Fear based on what we heard (or didn't hear) in our childhood. Fear born of  disappointment, and of the mistaken conclusion that those disappointments mean that God does not love us. That he does not believe we are worthy.
One thing I love about this blog–we're a small but deep group of people who feel safe talking about what is really going on–the joys and the struggles, the beauty and the mess.
Some of your responses brought tears–life is not easy for any of us. Thank you for your honesty.
But I do want to offer some encouragement to those of us who are letting the voice of fear speak a bit too loudly. I believe it is the time to tell the voice of fear to shut up.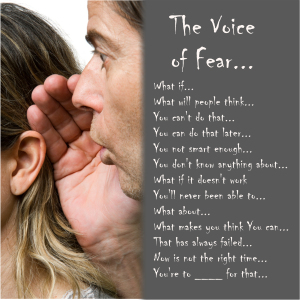 We often think the opposite of love is hate–but I don't think that's true. The opposite of love is fear. The Bible says perfect love casts out fear. But the opposite seems also be true, as your stories attest: fear keeps love out.
When we conclude, based on the challenges or disappointments of life, that God does not love us or find us worthy–that's listening to the voice of fear, which is not God's voice. The voice of love says "I did not cause this pain, but I'm with you in it."
You are deeply loved. But in order to believe that, you will have to be brave. There's a verse in the Old Testament book of Joshua where God tells Joshua to "be strong and courageous." He doesn't say, then you'll have no problems. In fact, he tells Joshua this as he's about to face the biggest challenge of his life. He doesn't say it will be easy. But he does say, "I'll be with you."  That's the only thing that can overcome fear: God's presence.
How do we experience that presence? That's what Deeply Loved is all about–practicing the presence on a daily basis. But here's a hint: we can't experience it in a hurry, and we can't experience it if we don't first just tell fear to shut up.
Today, what can you do to listen to the voice of love? What is that voice, God's voice, telling you? (Hint: if it's a message of guilt, shame or blame–that is NOT God's voice). He is saying, "You are my precious child, I love you, and I will be with you no matter where you go. Nothing you've done can separate you from my love."
What truth will you focus on today to banish the voice of fear in your life? What step of courage will you take?