Spoiler alert: Giving away free books. Leave a comment to enter the drawing!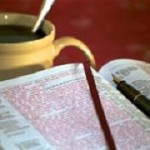 I grew up in a church that taught me to love God's word. That was the up side. The down side was that it also (indirectly) taught me to feel guilty if I didn't read it every day. I gauged my spiritual health (which people asked me about all the time—"How's your walk?" was the jargon we used) by whether or not I was reading my Bible, having daily devotions, a quiet time.
So I come to the practice of Bible study with mixed baggage, so to speak. I love the Bible, yet am fairly convinced I don't read it often enough or understand it fully.
And yet, the Bible has come through for me in so many ways. Because I grew up reading and memorizing it, passages will come to mind even when I don't open it. And when I do open it—wow. I'm comforted, confounded, confused and enlightened—sometimes all at once. But I've learned to use some tools: commentaries, concordances. My training as a journalist has taught me to question everything, which is a great way to read the Bible. When we question, sincerely, we "keep asking, keep knocking, keep seeking," as Jesus told us to do.
New Testament scholar Robert Mullholland once compared Scripture to "a lake whose depths have never been fully plumbed." No one has ever fully understood everything about it—but this does not mean we should not explore it and enjoy it.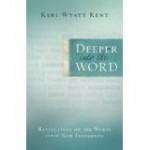 My newest book, Deeper into the Word, is a tool for those who want to get more out of their Bible reading—or perhaps need to be wooed back into reading the Bible at all.
It's a look at 100 words from the New Testament. You can use it as a devotional or a reference tool. I hope you will use it like a key, to unlock some of the mysteries of God's word.
If you'd like to be entered in today's Free Book Friday contest to win one of three copies we're giving away today, answer this question:
What gets in the way of you reading your Bible?
Perhaps you feel you don't understand it, or you don't have time, or …. Who knows? You tell me. What keeps you from reading the Bible?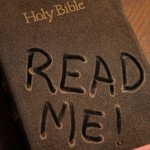 We'll pick three comments—from the blog and the Facebook comments, and you could win a copy of Deeper into the Word, New Testament—a tool that will make reading the Bible easier.
I recently created a twitter account for Deeper into the Word @100Biblewords. I hope you'll follow me there. Here's the link: http://twitter.com/#!/100Biblewords