The terrific new book giveaway site, Win Books Weekly, is giving away another of my books! Go to the site to get all the details. You can enter the contest via Twitter, or if you prefer, via a form at the site. As the name implies, Win Books Weekly gives away a different title each week!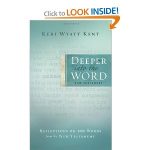 This week, they're giving away five copies of Deeper into the Word New Testament. The contest ends Friday so hurry over there now so you can enter. Please share this with friends!
As many of you know, Deeper into the Word looks at 100 New Testament words, offering a word study on each: which verses that word appears in, what it means, what Greek word or words it translates, and most importantly, why it matters to our lives!
If you do win a book, please post a review on amazon for me! I'd really appreciate it.